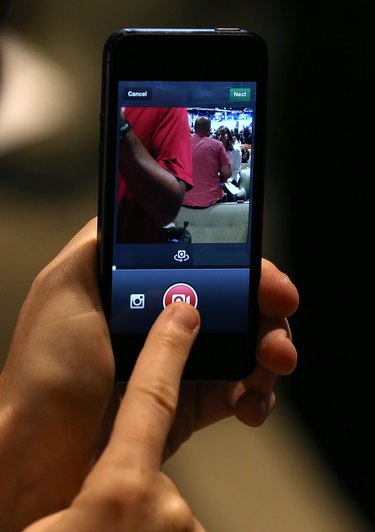 Instagram is more than just a camera app where you can quickly add filters to photos; it is also a social networking community that allows you to share pictures with other Instagram members and people registered on other social networking websites. The Instagram app -- available for both iOS and Android -- offers an option to upload any photo to Instagram's servers. Since uploaded Instagram photos can be accessed from any computer with a Web browser, Instagram is a reliable app for sharing photos with others, even if they do not have a mobile device.
Step 1
Launch the Instagram app from your iOS or Android device. If you see the Instagram Sign In screen, tap the "Sign In" button and log in to your Instagram account to access the Instagram home screen.
Step 2
Tap the "Blue" button with the camera icon on the bottom toolbar to use the Instagram camera. From the camera screen, tap the "Gallery" button positioned left of the blue camera button. If you are using the Android version of Instagram, tap the "Gallery" icon if you see the "Pick a source" dialog.
Step 3
Crop the image by pinching the screen in or out until you see the desired output. If you are using the Android version, drag the placeholder box to the area you wish to crop and drag the dots on any of the sides of the box if you want to resize the box. Tag the green "Crop" or ">" button on the upper right corner of the screen to see the filter screen.
Step 4
Tap on a filter you want to apply to the image from the bottom toolbar. Leave the filter setting on "Normal" if you do not wish to add a filter. Tap the green "Next" or ">" button on the upper right corner of the screen to proceed.
Step 5
Tap the "Add a caption" or "Write a caption..." label and enter a caption for the image. Tap any of the social networking icons in the "Share" section if you wish to share the uploaded Instagram image to other social networking sites such as Facebook, Tumblr, Flickr and Twitter. Tap the green "Share" or "Checkmark" button on the upper right corner of the screen to upload the photo.
Warning
Information in this article applies to Instagram 4.0.2 for iOS and Android. It may vary slightly or significantly with other versions or products.