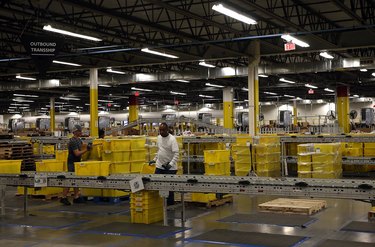 With over 230 million active customer accounts, the online giant, Amazon, is the most popular online store at the time of publication, and even ranks as one of the ten most popular websites on the entire Internet. Even if Amazon's own warehouses don't have what you're looking for, one of its third-party Marketplace sellers might -- though potentially at a high price. Whether you want to shop from Amazon directly or in the Marketplace, head to Amazon's website to start browsing the shelves or use a sky mall that curates different products from Amazon.
Find an Item
Amazon's home page provides three methods to start finding and buying items. The front page itself shows off featured items, and once the site starts learning your tastes, it will display products based on your history. To find a specific item, type in the search bar at the top of the page. Press "Enter" to search the entire catalog, or select from the drop-down menu set automatically to "All" to search a specific category, which also enables the "Refine" capability for more specific results. If you'd rather just window shop, click "Shop by Department," to pick a section to browse.
Make an Account and Check Out
As you come across items you want, click "Add to Cart" to save them. If you're undecided, add it anyway and you can always take it out of the cart later. When you're done, click the "Cart" button at the top of any Amazon page and select "Proceed to Checkout." Your first purchase includes creating an account. When Amazon prompts you to log in, enter your email address, choose "I Am a New Customer" and fill in your personal info. You'll also need to enter a credit card to complete your purchase. If you haven't shopped online before, the prospect of giving out your card number might seem intimidating, but online stores use encryption to prevent hackers from stealing your information. To stay safe on Amazon, just as with any other site, never give out your password, keep up-to-date anti-virus software on your computer and watch your bill for unexpected charges. Some credit card companies also provide one-time use numbers for shopping online -- check your card company's website to see if it offers this feature.
Shop on the Amazon Marketplace
Many items on Amazon come from third-party sellers on the Marketplace, indicated by a "Sold by" line near the "Add to Cart" button. If both Amazon and third-party sellers offer the item, the large "Add to Cart" button buys from Amazon, and you'll see a few alternative "Add to Cart" buttons with different prices and a link to a full list of used and new versions of the product. Marketplace sellers set their own prices, so you might find a great discount on a used item, or come across a rare, discontinued product that's only for sale at a collector's price. Even when buying from another seller, Amazon itself handles your payment, so you don't need to worry about your credit card information leaking out.
One important caveat about the Marketplace is that unlike eBay, sellers do not control their own shipping costs, and therefore cannot provide a shipping discount if you buy multiple items. Also note that some product pages include ad links to items sold on other websites, which are not affiliated with the Amazon Marketplace.
Return an Item
If your new dress doesn't fit right or a gadget arrives broken, Amazon accepts returns on most sales within 30 days of delivery. In general, third-party sellers offer the same policy, although you'll usually have to pay for return shipping to the seller unless the seller advertises free returns, whereas Amazon often provides a prepaid shipping label for its own returns. The cost of the return may be subtracted from the refund if the item was returned for some other reason than Amazon's mistake.
To start a return, visit the Returns Center, press "Return Items" and pick a product. A few types of items, such as groceries and high-priced goods, carry different return policies, which you can check on the return policy page.
Save With Amazon Prime
Amazon's Prime subscription service costs $99 per year and provides free two-day shipping on items purchased from Amazon that display the "Prime" logo. Prime includes free shipping on Marketplace items that sellers opt to have delivered via Amazon's warehouse, but not on most third-party purchases. Even without Prime, orders over $35 include free basic shipping, but Prime can save you a good amount on shipping if you frequently place small orders or need items delivered quickly. In addition, Prime includes extras such as Prime Instant Video, a streaming video service similar to Netflix, Prime Music, which provides free streaming music, and the ability to borrow one Kindle e-book per month from the Amazon Kindle Lending Library. To start a subscription, click "Your Prime" at the top of any Amazon page.