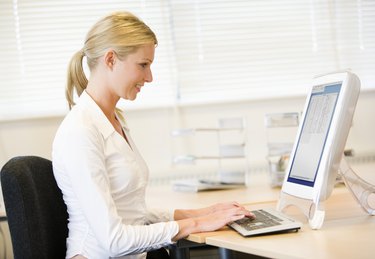 As with most of its Office programs, Microsoft offers a template for those with Access that is designed specifically for those interested in using Access for real-estate purposes. This free template, which you can download directly within Access or on the Microsoft official website, allows you to create a database in which you can manage your properties, buyers, sellers, prices and other information. Once you download the template, organizing your real-estate information is simple.
Step 1
Go to the Real Estate template on the Microsoft Office template downloads page (see Resources) and click download, or launch Microsoft Access, click the "Business" header, and select "Real Estate" under "Templates." The downloaded template will appear in a new Access page.
Step 2
Click "Options" and select "Enable this content," then click "OK."
Step 3
Click "New Property" to add your first property to the template, and continue until you have entered information on all of your current properties. The columns include property IDs and types, the street address, city and state.
Step 4
Click "Email List" in the toolbar to enter information for your contact list. "Tenant List" will open a page allowing your to enter and edit information on current tenants of your properties, and clicking "New Lease" allows you to enter and edit information on a new lease in progress.