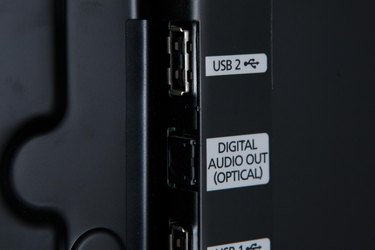 USB has become an extremely popular form of connection between computers and other pieces of hardware. If you have a digital camera or flash drive, you can easily connect the items to the computer. Because of this, many televisions now come with USB ports installed. With these USB ports, you can view the contents of a camera or other USB devices on your television.
Step 1
Determine if your television has a USB port on. The port on the television looks exactly like it does on a computer. It is usually found on the back of the television. If you're still not sure about the connection, look in your user manual; it may state whether you have a USB port.
Step 2
Connect the device to the USB port on the television. Make sure the connector is completely inserted into the port, otherwise the television may not read the device.
Step 3
Power on the device if required. USB flash drives do not have a power button, but video and still cameras do. If you are using a camera, set it to playback mode.
Step 4
Power on the television and press the "Input" button. Select "USB" from the available inputs. In a moment, the content stored on the USB device appears on the screen.