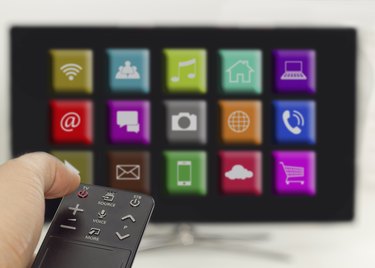 Netflix streaming video works with several Blu-ray player brands -- including LG, Magnavox, Panasonic, Philips, Samsung, Sharp, Sony, Toshiba and others -- and any Blu-ray device plays Blu-ray discs from Netflix. Logging in to Netflix from a Blu-ray player opens the Netflix Web interface on your TV screen, and selecting a title with your remote control immediately begins playback.
Connect Your Blu-ray Player to the Internet
The steps to get your Blu-ray player online differ between brands, but in general, you must directly connect an Ethernet cable to the device or join a Wi-Fi network from the Settings menu. Use your remote control to open Settings, Setup or a similarly titled menu, then choose "Network," "Wi-Fi" or a similar option. Select a network from the menu and enter a password when prompted. Refer to your owner's manual or the manufacturer's website for device-specific instructions.
Stream Netflix or Play Blu-ray Discs
For most Blu-ray players, you need to only select "Netflix" from the main menu and then sign in to your account to open the Web interface. Sony devices require registration with the Essentials Internet Video On Demand website, accessible from the Network menu in the Xross Media Bar panel. After registering your device, the main menu displays the same Netflix option available on other compatible Blu-ray players. Select this option and then use your remote control to enter your email address and password into the Netflix sign-in form. To play a Blu-ray disc, insert it into the player and press "Disc Menu" or a similar option on the remote control. From the disc menu, select "Play Movie" or select a scene from the Chapters menu.