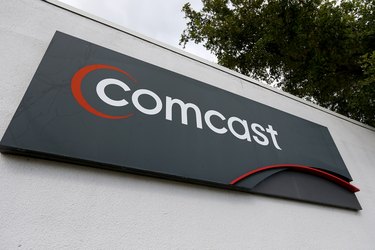 You may have a favorite Comcast cable television show, but, for whatever reason, you are unable to watch it on a TV. You can easily watch it on your computer or mobile device, either in real-time or on demand. There are several ways to make this happen either with hardware or wirelessly, all of which require you to be a Comcast subscriber.
Watch Live or On-Demand TV on Your Computer
Step 1
Sign in to your Comcast account on the Comcast website.
Step 2
Click "Watch TV Online" from your account page in the XFinity TV section. Note that the page opens in a new tab.
Step 3
Click the "Watch Online" tab and select "Live TV." Click your desired channel to watch the current broadcast.
Step 4
Click "Streampix" from the Watch Online tab to watch On-Demand TV. You must be subscribed to specific Comcast packages for free access, if you are not, you need to pay a monthly fee.
Watch On-Demand or Live Broadcasts on Your Mobile Device
Step 1
Connect to Wi-Fi on your Apple, Android or Kindle mobile device.
Step 2
Download the XFinity TV Go app and sign in with your Comcast username and password.
Step 3
Click "Live" to find current offerings; or click your choice of genre to watch networks on-demand.
Watch Comcast TV on Your PC Using a TV Tuner
Step 1
Connect a coaxial cable from the wall cable coax output; use a splitter to maintain your cable box connection.
Step 2
Connect the other end of your coax cable to a CableCard receiver, such as Silicon Dust HDHomeRun Prime, Hauppauge WinTV-DCR-3250, or similar.
Step 3
Connect an Ethernet cable between the selected receiver and your router.
Step 4
Insert the CableCard obtained from Comcast into the slot on the receiver.
Step 5
Connect the receiver's power adapter.
Step 6
Install Windows Media Player.
Step 7
Download and install the software for your receiver. Follow the directions on the software.
Step 8
Watch Comcast programs through Windows Media Player.
Things You'll Need
Splitter

Ethernet cable

CableCard receiver

CableCard
Tip
You can download up to 10 programs, as well as stream on up to three mobile devices. Downloaded content is available from Showtime, Starz, Encore or Movieplex as of the date of this publication (June 2014). Comcast plans to add more channels in the future. Contact Comcast to obtain and set up a CableCard; the first one is free.
Warning
You can only access stations that are part of your Comcast subscription service. Look for the lock symbol to indicate channels that are not included with your subscription.