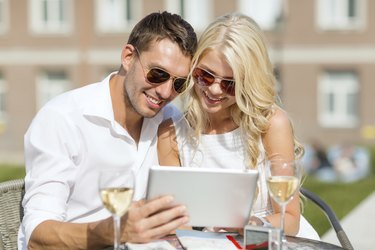 Whether you buy a movie, rent it, stream it or watch your own videos, you can do it with your iPad. The available iPad movie-watching options require you to download an app from the App Store, and you'll need a subscription to watch movies on the premium streaming services.
Subscribe to a Streaming Service
Netflix, Hulu Plus and Amazon Instant Videos all offer the same type of premium streaming service. Download the app from the App Store for each service to which you subscribe.You pay a monthly service fee and in return can choose from a huge collection of movies to steam directly to your iPad. Netflix offers unlimited streaming on one, two or four devices a a time; your cost is determined by how many different devices your family members want to access simultaneously. Amazon's streaming plan is limited to Amazon Prime customers who can download movies for instant viewing. Subscribe to Hulu Plus to access its collection of movies. Although Hulu Plus shows commercials on its database of TV shows, there are no commercial interruptions during its movies.
Rent or Buy Movies
If you want to rent or buy a movie to watch on your iPad, try the Amazon app or Apple's iTunes Store app. Open the iTunes Store app on your iPad to browse the list of movies or categories or search for a specific title to download. If you choose to rent, click the movie to download it to your iPad. You can keep the movie unwatched for up to 30 days, but after you begin watching, your time limit reduces to 24 hours. If you buy a movie, it is yours forever. Look for a "Rent" or "Buy" button on the movie description page. If there is no rent button, you can only buy the movie. To watch Amazon movies on your iPad, visit the Amazon website and click the "Instant Video" button because Amazon does not sell or rent movies directly from the app. You can then watch the video using the Amazon Instant Video app on your iPad.
Cable Delivery Systems
If you subscribe to a cable delivery system such as Comcast, Time Warner, Dish Networks or DirecTV, search for the name of your provider on the App Store and download its app. Open the app to watch on your iPad. Be aware that you will only be able to access media on stations that are part of your package. Premium channels such as HBO or Showtime stream movies to your iPad through a separate premium channel app such as HBO Go and Showtime Anytime.
Watch Your Own Movies
You can also watch movies that you own or created. Use Plex, a home media playback system to stream movies from your computer to your iPad. Download the Plex Media Server to your computer and set it up to connect to your media library. Then, download the Plex app on your iPad. Plex finds your media library as long as both the iPad and your computer are on the same network. Download the Wireless Transfer App to your iPad if you want to wirelessly transfer a movie to your iPad so you can watch it when you are offline. Open the app, click "Receive from PC/Android" and follow the directions.