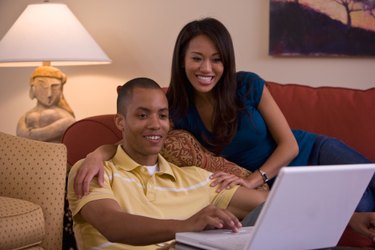 NBC Live is a service that gives viewers the chance to participate in synchronized polls and trivia while watching their favorite programs. When an NBC Live program is on the air, tune in to NBC on your TV and log on to NBC Live using your PC, where a live social feed lets you read posts from fans and insiders, giving you the opportunity to leave your own feedback, as well.
Step 1
Go to nbc.com/nbc-live and click "Get Started From Your Computer."
Step 2
Click "New Account" to create a myNBC account.
Step 3
Fill in the boxes to set up your account, then click "Submit." The next page is optional; click "Skip" to continue.
Step 4
Click "Connect to Facebook" or "Connect to Twitter" if you want your activity posted on those sites.
Step 5
Check the window on the left to see what shows you can watch with NBC Live, and their showtimes.
Step 6
Turn to one of the shows on your TV, and, from your computer, read the fun facts that display in sync with the broadcast.
Step 7
Click one of the four answers on the screen to answer the trivia questions.
Step 8
Click "Post" in the Social Stream window to add your own opinions about the show.
Step 9
Click "Log Out" to end the session.
Tip
You can log in and follow along from an iPad if you install the NBC Live app from iTunes.
Warning
Posting profanity, spam, slander or adult content is against NBC's Terms of Use, and could result in the termination of your account.