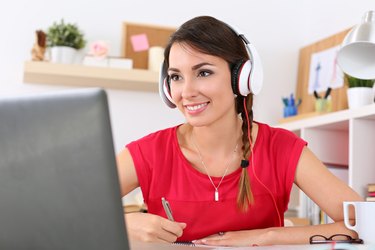 Windows Media Player doesn't offer a built-in zoom feature, but you can get around this limitation by enlarging the video player pane anywhere up to 200 per cent -- or double -- its original size. Enlarge Windows Media Player video by using keyboard shortcuts or the application's context menu.
Step 1
Play the video that you want to enlarge in the Windows Media Player app. The app isn't a standard feature in Windows 8, 8.1 or 10 but Microsoft offers it as a free download as part of the Windows Essential multimedia package.
Step 2
Right-click anywhere on the video screen. Hover your mouse over Video Size and make sure the Fit Video to Player option is not selected. If it has a check mark beside it, click to remove the feature.
Step 3
Right-click the video again and select Video Size. Select your preferred size from the options of 50 per cent, 100 per cent and 200 per cent.
Step 4
Press the keyboard's Alt button at the same time as the 1, 2 or 3 key for an alternative method. This zooms in or zooms out of the video. 1 is the shortcut for 50 per cent; 2 is the shortcut for 100 per cent; 3 is the shortcut for 200 per cent. Always use the number pad above the keyboard, not the numeric pad on the right side of some laptop and PC keyboards.