Perform a few troubleshooting procedures to remedy blank messages in the Messages app on your iPhone, including restarting the app, disabling iMessage and updating your phones software, among others. Before proceeding with these procedures, restart your phone and verify that you're connected to a cellular data network.
Restart Messages App
Step 1
Tap the Home button twice to open the multitasking screen, which displays a list of all apps currently running on your iPhone.
Step 2
Swipe through the apps to locate Messages and then swipe the Messages app thumbnail upward to quit the app.
Step 3
Open the Messages app again and delete the thread containing the empty messages. Start a new conversation with the person from whom you're receiving blank messages.
Disable and Re-enable iMessage
Step 1
Open the Settings app and tap Messages on the main menu to open the Messages settings screen.
Step 2
Toggle the virtual iMessage switch off and then on again to reestablish your connection to the iMessage service.
Reset Network Settings
Step 1
Open the Settings app and tap General to open the General settings screen.
Step 2
Tap Reset and then touch Reset Network Settings to reestablish your iPhone's default network settings.
Perform a Hard Reset
Perform a hard reset on your iPhone to restart all of its apps and services and to reestablish network connectivity.
Step 1
Hold down both the Power/Sleep button on the right side of the device and the Home button until the Apple logo appears on the screen.
Step 2
Release both buttons and wait for the device to restart.
Update Your iPhone's Software
Installing the latest version of the iOS operating system and downloading recent patches for individual apps and services helps to ensure you've always got the latest fixes to problems. These updates can also include patches from your carrier, which are sometimes released in order to address messaging problems.
Connect your iPhone to its charger before updating the device to ensure it has a constant supply of power throughout the update process.
Step 1
Open the Settings app, tap General and then select Software Update.
Step 2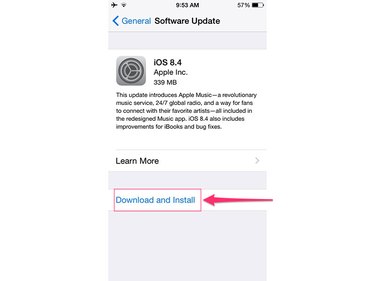 Tap Download and Install and then tap Install to confirm you want to install all of the latest updates available for your phone.