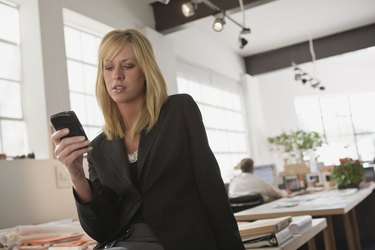 A drained iPhone battery can cause it to not appear in iTunes even if it is connected, as the device must have enough power to synchronize to your computer. According to Apple, the iPhone charges when connected to your computer through its docking cable, and displays an image of a battery with a sliver of red to indicate the low battery level of your device. The image will remain on the screen until the iPhone has charged long enough to power on and return to the home screen.
Step 1
Plug the iPhone into your computer with the docking cable. Leave the iPhone connected to your computer until it makes a chirping noise, which means it has enough power to turn on.
Step 2
Open iTunes. If the iPhone does not appear in your iTunes' source pane, hold down the power button on the top of the iPhone until a slider bar appears on screen.
Step 3
Slide your finger against the screen to turn off the iPhone, and wait for the iPhone to power down.
Step 4
Press the power button on the iPhone to turn it on, and wait for it to connect to iTunes. If the iPhone does not appear in the source pane, restart your computer and re-launch iTunes.
Step 5
Update your iTunes program by clicking "Help" on the program menu and "Check for Update" on your PC or "iTunes" on the menu bar and "Check for Update" on your Mac, as your iTunes software may be outdated.
Things You'll Need
iPhone USB docking cable

ITunes 9 or later