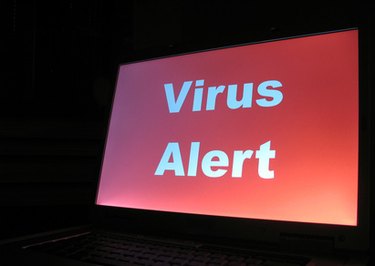 AVG is an anti-virus software that provides extra protections for millions of users worldwide. The best way to keep your computer protected while using the program is to set it to automatically update virus definitions. That way you do not miss important protection upgrades.
Step 1
Run a virus scan to see if your computer is infected. Sometimes a virus or other malware will prevent the AVG software from updating. It is possible for AVG to remove an infection before it updates, but sometimes when this will not work. Delete any malware that is discovered during the scan.
Step 2
Reboot your computer after shutting it down. Wait for at least one minute and restart your computer. This may clear any "bugs" that are keeping the AVG software from updating.
Step 3
Remove the AVG software from your computer, if the previous steps do not solve the issue, and reinstall. Navigate to your computer's Control Panel. Choose the "Programs and Features" option. A dialogue box will pop up. Choose the AVG program and click "Uninstall." Once the uninstall is complete, restart your computer. Reinstall AVG through the company's website using the link in Resources.
Step 4
Adjust the settings so the program will run daily. Choose "Update Manager" on AVG's main screen. Check the box labeled "Start Automatic Updates." Set the update to run every day at a time that is best for you. If the software asks you to restart the computer, do this now.
Step 5
Open the AVG program and click on the "Update Now" button. If you are using a free version of AVG and do not want to purchase one, you can manually update the software.
Step 6
Go to the AVG official site and manually download any updates. Current updates are in different areas of the website for the free version and the paid for version. The paid version of AVG offers all updates in the Releases section at the bottom of the main page. The free AVG version offers updates on the Support Center page. Click on "Support Center." At the very bottom of the page, click on "Updates." Look for the date in the left-hand side of the column and click on the most current one.
Step 7
Open your AVG program and right-click on "Control Center." Click on the button "Check for Updates" and in the pop-up window unmark the area that says "Do not ask for update source next time ..." This will now allow you to manually update each day or whenever you choose.
Step 8
Click on "Folder" in the dialogue box under the Update menu. Look for the BIN file and click "OK" and "Yes." When the update is completed, you will see a dialogue box appear stating that the update was successful. Click on "OK."