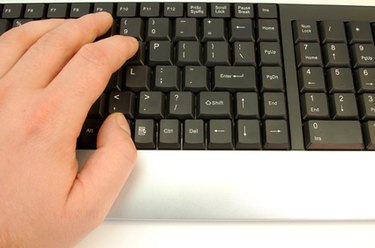 Slow response time while typing on a computer can interfere with word processing, data entry, Internet browsing and entertainment like chat. The most common reasons for slow typing time are insufficient random access memory, key loggers and fragmented hard drive data. Key loggers are viruses that track your keystrokes, allowing a third party to steal passwords and other information. Poor arrangement of data on your hard drive or severe fragmentation of the data can also cause problems. Any of these issues may cause slow computer response when you are typing.
Removing Key Logger Programs
Step 1
Run your anti-virus software. The anti-virus should identify and delete key loggers installed on your computer. Proceed to the next step if you think your anti-virus software hasn't removed the virus.
Step 2
Right-click the Taskbar and select "Task Manager." Look for suspicious programs in the "Processes" tab. Note the name of any program you think may be a key logger. Research the name of the program online to verify if it is a key logger. If it is, proceed to the next step.
Step 3
Click "Start." Select "Control Panel." Click "Programs and Features." Click "Uninstall a Program" in "Category View." Click the key logger program and click "Uninstall." Proceed to the next step if the key logger program isn't in the program list.
Step 4
Click "Start." Type the name of the key logger program file in the search text box. Navigate to the location of the file on your computer, select the file, right-click and choose "Delete." Confirm the delete when prompted.
Upgrading Memory
Step 1
Shut down and unplug your computer.
Step 2
Remove the screws that hold the side panel in place and slide the panel out to open your computer case.
Step 3
Locate the RAM stick on the motherboard. RAM should be the only thing in any of the motherboard slots that is green, about 1-inch wide, 4-inches long and rectangular in shape.
Step 4
Push apart the clips that hold the RAM stick in place with your fingers. Lift the RAM stick straight up and out.
Step 5
Insert the new RAM stick, making sure the clips lock in place. Reattach the side panel of the computer tower, plug in your machine and boot up. Windows should recognize the new RAM automatically and you should see better process and typing speeds due to the increase in resources.
Defragmenting Your Hard Drive
Step 1
Click "Start." Select "Control Panel."
Step 2
Click "System and Security."
Step 3
Click "Defragment Your Hard Drive" under the "Administrative Tools" section.
Step 4
Select the disk to defragment under "Current Status."
Step 5
Click "Analyze Disk." If Windows analyzes the disk and 10 percent or more of the data is fragmented, click "Defragment Drive." The defragmentation may take several hours, so you may want to let this run overnight.