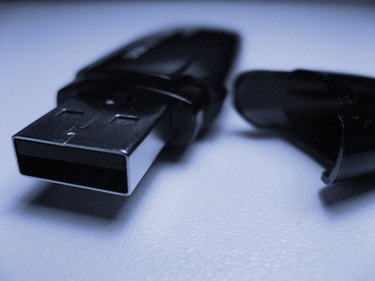 Storing music on USB flash drives allows you the convenience of saving space on your primary computer's hard drive and the ability to transport your favorite songs in a compact case. USB flash drives also have the capability to run files. As a result, you may play the stored music directly from the USB flash drive without having to transfer it onto your computer or another device. Once you have opened the USB flash drive's folder that contains your desired music, you can play it from your computer through the device's connection.
Step 1
Insert the USB flash drive into an available USB port on your computer.
Step 2
Wait for your computer to recognize the USB flash drive as a connected device. The USB flash drive's icon will appear either on your computer's desktop or in its file manager, such as Windows Explorer or Finder.
Step 3
Double-click the USB flash drive's device icon. Doing so reveals its root folder.
Step 4
Open the folder within the USB flash drive that contains the music you want to play, provided it is not stored on the root folder.
Step 5
Double-click the file icon of the song you want to play. Doing so launches the playback utility associated with the music's file type, for example, iTunes or Windows Media Plater. Alternatively, you may forgo Steps 3 and 4 and launch the music playback utility, then select the music file stored on your USB flash drive from the "Open" or "Add to Library" option within the utility's "File" menu.