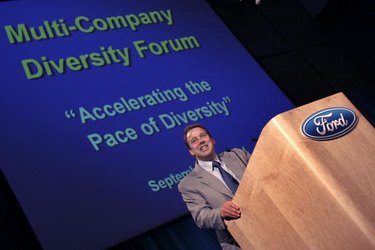 PowerPoint, part of the Microsoft Office suite of productivity software, is a program for creating slideshow-style presentations that can be displayed on a computer screen or projected onto a wall screen for audience viewing. PowerPoint presentations can also be printed in hard copy as audience handouts. You can combine text and images in a PowerPoint presentation and can easily duplicate images for use on more than one slide.
Copy an Image
Step 1
Open PowerPoint. Navigate to the slide that contains the image you want to duplicate.
Step 2
Right-click on the image to display an options menu. Click "Copy" to copy the image.
Step 3
Navigate to the slide where you want to insert a copy of the image. Right-click and click "Paste" to insert the duplicate image.
Copy a Slide
Step 1
Right-click the small image of the slide that appears in left-hand pane if you want to make a duplicate of the entire slide.
Step 2
Click "Duplicate Slide" from the menu that's displayed.
Step 3
Click and hold the mouse button on the small slide to "grab" it and drag it to a new position in your presentation. For example, you can copy slide No. 2 and its duplicate will automatically show as slide No. 3. You can then grab the duplicate and drag it into position as slide No. 4.