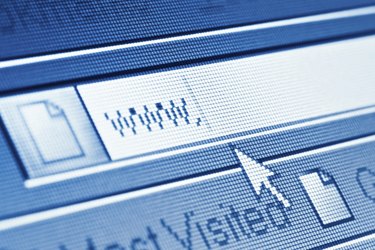 According to a Pew January 2014 survey, American adult Internet usage has increased about 73 percent since the 1995. Americans live at least some portion of their lives online. While some might claim the Internet is chaining us to our devices, causing us to shun human contact -- and sometimes sunshine -- the Internet has also given us new ways to communicate, learn, and explore the world at large.
Sharing and the New Media
Anyone can share information with the click of a mouse because of the Internet. Digital media are easy to share and easy to create. A content creator needs a digital camera and an Internet connection to upload his next movie; YouTube allowed beauty guru Michelle Phan to launch a beauty empire from her living room. Even as traditional media expanded their reach into consumers' homes through the Internet, new platforms emerged online like Netflix, Amazon Prime, and HBO Go. According to Forbes, Netflix has outpaced cable companies in viewers.
You've Got Mail
An Internet connection provides a channel for deepening human connections across the globe. Staying in touch with your kid in college or your family on another continent is a snap with email. The low cost of communicating on the Internet has also revolutionized telephonic and televideo service. Next time you need to talk to a friend or schedule a job interview, make it face to face. Services like Skype and Facetime make distance irrelevant. Friends across the globe can engage in conversation in the comfort of their own homes.
Social Networks
Social media have made it easier to connect with other people and expand your social circle -- which need not depend on who you meet face to face in your everyday life. Not only can you now contact anyone with an Internet connection, you can watch their lives unfold in real time, and record the events in yours. Vacation photos go up on Facebook and Instagram, and dates are scheduled on Tinder. Social networks enable users to share more parts of their lives than ever before.
Beyond the Bank
Digital money makes it easier for anyone to facilitate financial transactions. Whether you use PayPal or Venmo, the Internet has lowered the cost of doing business. If you need some help starting a business or funding a great idea, crowdfunding sites like Indiegogo can help anyone with a compelling story get started. Thanks to the Internet, new financial tools are changing the way we think about money and doing business.
The Sharing Economy
Sharing economies are making the way people live their lives more efficient. Traditional businesses are facing the innovations that peer-to-peer communication and knowledge-sharing bring to the economy. Thanks to Uber, for example, cars that otherwise would travel half-empty are making money. AirBNB allows individual to make extra income on an empty room. The Internet allows individuals to expand their reach into new markets, improving the condition of their bank accounts in the process.
Education
One of the most valuable things the Internet has brought us is a new and improved access to education. Students of all ages and abilities need not depend on conventional classrooms to learn. Students supplement classroom learning with Skype tutors or a review session with an online video tutorial. The Internet has helped democratize education. For example, the New York TImes reported, Google has been working on ways to bring the Internet to remote areas of Africa, providing small, marginal villages with new ways of gaining access to information and working and communicating over long distances with friends, colleagues and family.