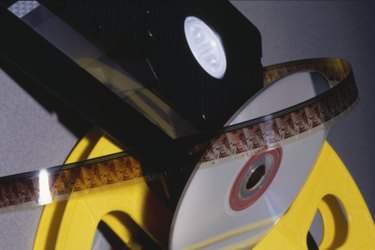 Subtitles are essential to watching and understanding non-English language movies. If you open a movie with embedded subtitles in the open source VLC media player, the subtitles appear on the video. If the subtitles are contained in a separate file, however, they may not appear. If a movie's subtitles are not working in VLC, load the subtitle file manually. You can also embed the subtitle in the video using a process called "hard coding."
Causes
Many videos have their subtitles in a separate subtitle file, which is usually in the SRT or SUB format. A subtitle file contains the text of the subtitles and a set of time codes that tell VLC when to display each subtitle. VLC automatically looks for a subtitle file with the same name as the video file in the same directory as the video file. If the subtitle file's name is even slightly different from the video file's name, or if the subtitle file is in a different directory, VLC is unable to load the subtitles.
Solution
If a movie's subtitles aren't working, you can manually load the subtitle file into VLC. Click the "Video" menu, hover the mouse over "Subtitles Track" and click "Open File." Navigate to the subtitle file, click on it, then click "Open" to load the subtitles. Click "Video" and hover over "Subtitle Track" again, then select a subtitle track from the menu. English subtitles are usually -- but not always -- on "Track 1." If the subtitles still aren't working, open VLC's "Preferences" section, click on "Subtitles & OSD" and ensure that the subtitles' font is set to "Normal" size and "White" color.
Prevention
VLC only looks for subtitle files in the folder that contains the video file. If you move a video file to a new directory on your computer, ensure that you also move any other files in the directory. Never rename a subtitle file. Even slight name changes will prevent VLC from automatically finding the subtitles. Don't change the extension of the subtitle file, as this extension tells VLC how to handle the subtitles.
Hardcoding
If you want to ensure that subtitles will always appear on a video, you can embed a subtitle file into the video by using VLC to hard code the subtitles. Open VLC's "Media" menu, then click "Convert/Save." Click the "Add" button and double-click the video to which you want to add subtitles. Check the box next to "Use a subtitles file," then click the "Browse" button. Double-click the subtitle file, then click "Convert/Save." Type a name for the video into the "Destination File" box, then set the "Profile" menu to the same format as the input video. Click the wrench icon next to "Profile," then click "Subtitles." Check the boxes next to "Subtitles" and "Overlay Subtitles on the Video," then click "Save." Click "Start" to embed the subtitles into the video.