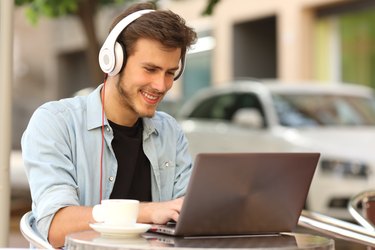 SRT files are plain text documents that contain video subtitles and timings. VideoLAN, or VLC, is open-source multimedia software that can playback videos and their associated SRT files. If the file names for the video and the SRT file don't match, if the subtitle track is disabled or if the program doesn't support the correct encoding, VLC media player won't display subtitles while playing the video.
Step 1
Click the Windows orb and then "Computer." Navigate to the folder where the SRT file is saved. Drag and drop the file into the the same folder as the video, if the subtitle and video aren't already located in the same directory.
Step 2
Right-click the video and click "Rename." Hold down "Ctrl" and "C" to copy the file name. Don't make any changes to the video's name.
Step 3
Press "Enter." Right-click the SRT file, and then click "Rename." Press "Ctrl" and "V," and then press "Enter" to change the name of the subtitle file.
Step 4
Open VLC. Click "Media," "Open File," and then find and click the video. Click "Open." If VLC doesn't display the subtitles, click "Video," and point to "Subtitles Track."
Step 5
Click "Open File." Click the SRT file and click "Open." Return to the "Video" menu. Point to "Subtitles Track," and confirm that the correct track is selected.
Step 6
Click "Tools" if the subtitle still fails to display in VLC media player. Click "Preferences." Click the "All" radio button from beneath the "Show Settings" option.
Step 7
Open "Input/Codecs" and "Subtitles Codecs." Click "Subtitles." Confirm "Formatted Subtitles" and "UTF-8 Subtitles Autodetection" are checked. Click the appropriate subtitle language from the drop-down menu. Click "Save."