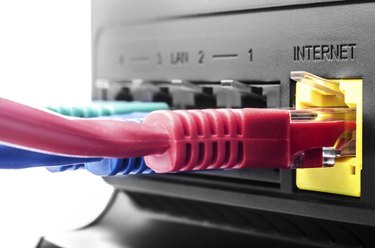 If you decide to subscribe to AT&T DSL service, you can rent or purchase their modem or purchase your own. AT&T offers four modem selections, one with and three without Wi-Fi onboard. If you want to save money, you can buy your own modem and install it yourself.
Basic Modems
AT&T offers three basic DSL modems, two of which are essentially featureless. The AT&T Motorola DSL Modem Model 3360 does not have technology built in for the fastest types of connection. Another less expensive option from third party vendors is the Netgear model DM111PSP. Although similarly featureless, it includes an easy installation disk and a phone line interference blocker; additionally, it is compatible with other carriers. The other basic AT&T modems, the Netgear DSL Modem Model 6200 and the Netgear DSL Gateway Model 7550, do support the faster IP6v protocol, but have known compatibility problems with other vendors' Wi-Fi routers.
Wi-Fi Equipped Modems
There is only one Wi-Fi capable modem available from AT&T: the PACE DSL Gateway Model. The PACE unit has a healthy list of features, but the same features are available for less money on the Actiontec wireless N DSL Modem Router Model GT784WN or the TP-LINK TD-W8960N wireless N300 ADSL2+ modem router. The only advantage in staying with AT&T equipment is the availability of service over the life of the modem. If the unit fails for any reason at any time, AT&T will replace it at no charge.