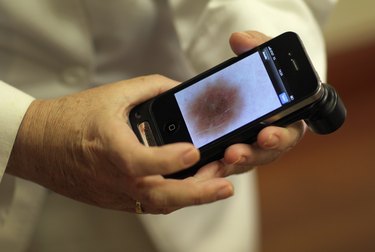 The applications on your iPhone may freeze or crash -- a situation that can be frustrating if you depend on these apps for business or productivity purposes. If the mail app on your iPhone has been suddenly freezing, there are steps you can take to fix this problem and restore functionality to the iPhone function. Apple's recommended way of resolving a frozen application includes restarting the phone, quitting the frozen application, and resetting the application. If none of these solutions work, a full restore may be necessary.
Force Quit
If your mail application on your iPhone suddenly freezes when you're reading or sending an email, initiating a force quit is your first step. To force quit the application, hold down your phone's home key for six seconds, which should quit the app and return you to the home screen. If the force quit was successful, the Mail app will be unfrozen when you go back into the application.
Restart
When a force quit doesn't help to unfreeze the Mail app, restart it by holding down the sleep/wake button on the top of the phone until a red slider and the words "Slide to power off" appear on-screen. Swipe your finger across the slider to power down your phone. Once the phone is off, press the sleep/wake button again to power up the phone.
Force Restart
If the Mail app is so frozen that you can't exit it or restart your phone normally, you need to do a force restart -- a function that involves holding down the sleep/wake button and the home button simultaneously. Press both buttons for about 10 seconds, or until the screen goes black and a white apple appears. The difference between a restart and a force restart is essentially the same as powering down your computer using the Shut Down function in your Start menu or simply holding down the power button until the computer instantly shuts down.
Restore Your Phone
Restoring the iPhone is the last resort when you're experiencing Mail problems that can't be resolved through normal restarts or exiting the app. Restoring your phone to its factory settings erases all of the data from your phone -- including music, applications, contacts and settings. To restore your iPhone, connect it to your computer with a USB cable and open your iTunes application. Once iTunes recognizes your phone, the device name appears in the left column of the screen. Highlight your device's name to show the synchronization options for your phone. One of these options, shown on the main summary portion of the window, is to restore your phone. Click the "Restore" button to begin the process. You're be prompted to back up your data prior to initiating the restore, which will help protect you from data loss.