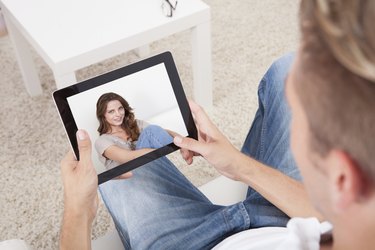 Communication software allows you to connect with other computers or mobile devices via text, video or audio formats in either a synchronous or asynchronous manner. While some means of communication, such as email, are asynchronous, Web conferencing and video chat are synchronous -- allowing all parties to communicate in real-time. Video messaging offers a choice of either method. Some communication software is only available for mobile devices; others can be used on computers as well.
Video Chat
Voice over Internet Protocol or VoIP allows you to communicate with others over the Internet without using phones. Costs are minimal. With most services, you can communicate directly from one computer to another, usually at no charge, or connect to a cell phone or landline for a small fee. Skype is available for Windows, Mac, Linux and mobile devices. With a webcam on your computer, you can video chat with up to 10 people at once or even send a video message. Facetime works similarly, although it does not allow for group chats at this time. It runs on all Apple products. OoVoo is also multi-platform, albeit with less features for Mac. Use ooVoo to video chat with up to 12 contacts, send video messages, swap screens and send files.
Video Messaging
Video messaging differs from VoIP in that it is not a medium for discussions, but one in which you send a contact a short video in lieu of a text; the recipient can watch it instantly or whenever he wants. Glide and Samba are examples of this type of software; both are available for mobile devices only. Use Glide to send fast videos to groups or individuals with no uploading or downloading required; edit them on-the-go. You can chat in groups as well as send and receive videos and text. It is available in the Apple App Store or Google Play. Samba goes one step further; it automatically records the recipient's reaction to the video on the phone's front-facing camera. As of this publication, Samba is only available for iOS. Both Glide and Samba are free.
Web Conferencing
Web conferencing is generally used by businesses for meetings, training events or to relay other information to people in a remote location. A monthly fee is usually required to use the software. Standard practice includes a whiteboard, VoIP, screen sharing and chat. Most services offer remote desktop control and the opportunity to record meetings and annotate information. Download an iMeet app for your iOS or Android device or your PC. Use it to hold or attend audio meetings for up to 125 people; up to 15 can participate in video meetings. Share your screen or files and easily pass control of the meeting between participants. Adobe Connect works on your desktop to share content and stream audio, video and software. Participants can provide feedback to the moderator or chat with the room or an individual and make notes. They can also share screens, whiteboards or documents and gain control of the meeting if desired.
Email
The old standby of regular email is still a heavily used communication tool, so a good email client is essential. Inky runs on both Windows and Mac and can be used on mobile devices as well. This free software works on any IMAP or POP account, allowing you to consolidate your mail into one place. Inky has a simplified toolbar so you can easily organize your mail into groups, such as daily deals or package tracking. Another choice is Mailbird, which runs on Windows. Winner of numerous awards, Mailbird specializes in simplicity. The free version supports up to three accounts; it does have ads, however.