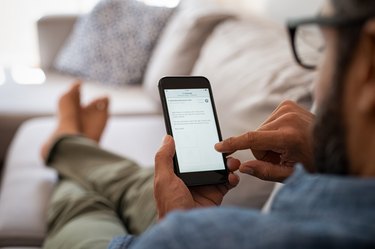 Email is an integral part of daily communication, even if you only use it for work. Webmail is a type of email that you access via a web browser, but desktop-based email programs and mobile email apps are also popular choices. Webmail has grown in popularity, thanks in large part to the fact that it's free and accessible from anywhere.
What Is Email?
Email, which is short for electronic mail, refers to a method used to send messages between one person to another. Before the internet, if someone wanted to send a written message, a letter sent via postal mail was the preferred option. Email went mainstream before text messaging and around the same time as instant messaging, which took off in the mid-1990s, thanks to America Online and Yahoo Messenger.
You can send email using a variety of methods. Microsoft Outlook, which is part of the Office 365 package, is the most popular non browser-based option, followed by Apple Mail. You have to pay for Microsoft Outlook, but Apple Mail comes installed on Mac computers and mobile devices. Webmail, which is accessible through any web browser, makes it possible to send and receive email without special software as long as an internet connection is available.
What Is Webmail?
In 1994, a scientist at CERN developed the first web-based email client. Just two years later, Hotmail came to market, with the name designed as an elongated form of HTML to celebrate the fact that it was on the internet. The market changed in 2004 with the advent of Gmail, now by far the most popular web-based email client.
Perhaps the best thing about webmail is that it's free. You can even skip the price tag attached to Microsoft Office 365 and use Outlook directly on Outlook.com. As with Gmail, you get everything you need to communicate electronically with others and manage your daily tasks, including a calendar and address book.
Webmail Versus Email
With webmail being free, it's only natural to wonder why someone would pay for an email client. Web-based email is accessible from anywhere; you only have to log in to a web browser. You can usually find apps for your webmail provider of choice and keep up with your emails on your smartphone.
However, there are a few things that can push you in the direction of an email client. Those include:
Integration: Many businesses opt for an email client for its ability to integrate with the other software they use. Although this functionality is becoming more available with webmail, if you use advanced calendar solutions or tools such as Salesforce, you may find a desktop-based solution integrates more seamlessly.
Ads: As with any free service, accessing your mail online means dealing with ads. Gmail keeps this manageable by limiting the ads to the Promotions and Social tabs.
Notifications: This is one area that has changed in recent years. At one time, you could only get notifications if you used downloaded email software on your computer, but modern web clients such as Gmail let you set up desktop notifications with just a few steps.
Personal Preference: No matter how many reasons you list, the choice comes down to personal preference for many people. Some simply prefer the look and feel of a desktop client.
Mobile Email
Giving paid tools like Microsoft Office 365 even more competition is mobile email, with a growing majority of emails now being checked on mobile devices. Whether you use webmail or a desktop client, chances are you have things set up so that you can check your email on your phone from wherever you are.
If you use Gmail or another web client, you can do this using an app. For Outlook, you need to download the app for your device's operating system and then input your username and password to access your email.