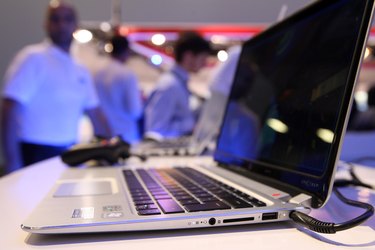 Despite reports of its demise in the wake of competition from tablets and smartphones, the laptop is alive and well. Windows laptop sales held steady in 2013, and Chromebook laptop sales boomed, soaring from almost nothing to nearly 10 percent of personal computing device sales. At the head of the pack is American manufacturer Hewlett-Packard. Japanese electronics firm Toshiba has a much smaller market share, but is still a significant industry player. The two companies are more alike than different in their many offerings, but some meaningful contrasts do stand out.
Differences in Product Offerings
Both Toshiba and HP produce several families of laptops catering to the needs of different consumers, and in general both companies have similar offerings. However, there are some important differences. Toshiba's laptop families are very well-differentiated and serve several niches more closely than HP does, while HP takes more of a generalist approach. In particular, if you want a laptop for heavy-duty gaming or high-end multimedia, only Toshiba offers suitable machines, through its Qosmio line. HP's own high-end laptop family, Envy, is good for general-purpose high performance but not for hardcore gaming. Conversely, when it comes to business computing, although Toshiba offers its Tecra family of laptops with a focus on sturdiness and security, HP is the world's leading supplier of laptops to businesses and has an entirely separate website and series of laptop families -- mostly notebooks, including the Essential, ProBook and EliteBook lines -- to serve the business community.
Price Comparisons
Laptop prices depend on the hardware and software specs, starting at a baseline for a given model and going up from there. On the bargain end of the spectrum, as of July 2014 Toshiba's Satellite family of general-purpose laptops begins with a suggested retail price of $250 and its Chromebook laptops start at $300. These prices are inverse to HP, whose general-purpose Pavilion laptops start at a suggested $300 and whose Chromebooks begin at $250. For gaming rigs, Toshiba's Qosmio line starts at $1,300. HP's general-purpose, high-performance Envy line starts at $500. Toshiba's Kira ultrabook starts at $1,500, and its portability-oriented Portégé line starts at $720, while HP's ultrabooks start at $700. Overall, Toshiba tends to start its machines out at a higher price point with better hardware, and has better top-end stats too -- especially RAM -- while HP offers a lower price point for older hardware closer to obsolescence. If you're a casual user that points to HP being the better bargain, but if you need solid hardware then the edge probably goes to Toshiba.
Warranty and Repair Information
Toshiba and HP offer similar warranties and support. Their laptops all come with a free, one- or two-year standard warranty that entitles you to have your computer replaced or repaired, at the company's discretion, in the event of manufacturing flaws or defects in workmanship. You can pay extra to extend the time window on the standard warranty by up to three years. Standard warranties don't cover everything that happens to your computer, including liquid spills, accidental drops, electrical surges and viruses, so for these contingencies both companies sell an additional "accidental damage" warranty that's much more expensive -- ranging from over $50 to almost $500 depending on the purchase price of the laptop and how long of a warranty term you buy. You must purchase any additional warranties within 30 days of buying the computer itself. Besides warranty coverage, both companies offer live technical support through chat or over the phone, and an on-site technical support service for those who live within about 75 miles of a major city. HP's website additionally offers a "Tune-Up" service where a technician will help you to restore and improve your laptop's performance, and a "SmartFriend" service for questions you have that aren't covered in the user manual.
What the Experts Say
Neither company has a decisive advantage over the other in terms of industry accolades, but both companies make some individual models that stand out. PC Magazine ranked the HP Chromebook 11 as the fourth-best all-around laptop in 2014 -- one of the few instances where a major reviewer ranked either company's 2014 offerings in the Top 10. In the Chromebook and budget laptop category, TechRadar ranked Toshiba's CB35-A3120 Chromebook in fourth place and HP's Chromebook 11 in fifth place. Tom's Guide ranked the Toshiba Chromebook best in its class. In the ultrabook category, PC Magazine ranked HP's Spectre 13T-3000 in eighth place and Toshiba's Portégé Z30-A1301 in tenth place. Tom's Guide ranked the HP Spectre best in its class. In general it was a quiet year for both companies on the rewards circuit. In long-term reliability -- a category that can only be evaluated statistically -- SquareTrade, an extended warranty service provider, found in a 2009 study that Toshiba laptops are more reliable, and the second-most reliable overall, with 15.7 percent of Toshibas experiencing a major failure within three years of purchase. HP scored the worst, in ninth place, with 25.6 percent of HP laptops failing within three years.