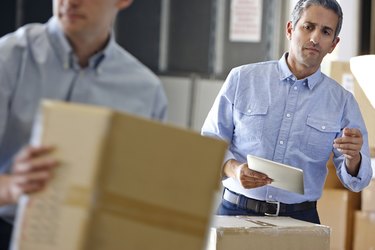 The Dell Computer company is a key success story, not only as a computer hardware provider, but as a direct business model, supplying its product line directly to consumers from its earliest days in 1984. Inspiron, Vostro and Optiplex desktop computer lines have been marketed for both business and personal use, and each model has its own price and feature range.
The Dell Product Range
The Inspiron, Vostro and Optiplex names are but a few of the product lines Dell uses to roughly group its products by price point and feature set. You can purchase stock models within the product classes or use these as a framework to customize computers to match your needs. While the Inspiron, Vostro and Optiplex names are used for desktop computer lines, Inspiron is also used for laptops, while Vostro and Optiplex are not. Inspiron also crosses the home and business computing market, while the Vostro and Optiplex models are directed toward business users.
The Vostro Line
Vostro computers have been discontinued by Dell, although the platform is still supported with parts and upgrades. Previously, it was the mid-level model line targeted for business use, falling between the Inspiron and Optiplex product lines, though, depending on features, price points for each model have a good deal of overlap. Vostro production included the Windows 7 Professional operating system, before being discontinued.
The Inspiron Desktop Series
Inspiron is Dell's catch-all model name, from personal use desktops and laptops, to models designed for business. While Dell's most affordable models often carry the Inspiron name, models in this class cover a range of price points. Targeting business users, Dell refers to the Inspiron line as "budget friendly desktops," and offers small and conventional tower sizes. Operating systems available at the time of publication include Windows 7 Home and Pro, as well as Windows 8.1.
Optiplex -- The Business Powerhouse
The Optiplex line is Dell's made-for-business platform, promoting power and dependability as selling points. The company supports this with standard three year warranties, compared with one year for Inspiron models, including next-business-day service, after remote diagnosis of system problems. At the time of publication, Optiplex models run Windows 7 Pro operating systems, and also include licences for Windows 8.1. Computer designs range from ultra small to full tower in the Optiplex 9020 series, while the Optiplex 3030 series is an all-in-one package, including a Windows 8.1 touch screen system.