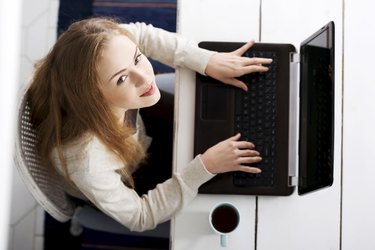 Satellite laptop computers are Toshiba's long-running consumer level laptops. The Satellite branding doesn't refer to any special capabilities of the device, but rather to where the laptop stacks up against Toshiba's other offerings. According to Toshiba, the Satellite line is targeted towards "everyday value" whereas the Qosmio line is designed for mobile gaming. Toshiba also offers size-conscious laptops in the Portege line and ultrabooks in the KIRA line.
Satellites for Different Needs
The Satellite line offers models from the ultra-low-end to the mid-range. If you're looking for a high-end or performance machine, the Satellite line is not for you. Satellite laptops come in a variety of finish styles and offer screen sizes of 12.5, 14, 15.6 and 17.3 inches. According to PC Magazine and PC World laptop reviews, you can get a lot of performance for a reasonable price with a Satellite system. Toshiba arranges the different Satellite series to help match your budget and feature needs. For example, the C Series is a bare-minimal system designed to cover the basics, the L Series emphasizes value and offers a bit of performance, the E Series is designed for portability and includes a touchscreen, and the S Series offers discrete graphics for better performance. The Satellite brand also includes the combo laptop/tablet Satellite Click Series.