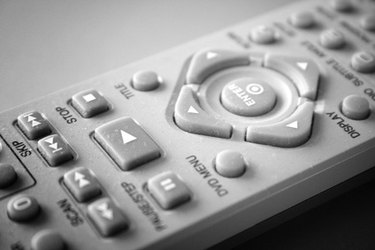 Toshiba delivers a wide variety of remote controls that come with its DVD and Blu-ray players as well as its televisions, plus it also offers various universal remote controls that can be used with multiple devices including non-Toshiba electronic products. If you are unable to operate your Toshiba remote control as usual, or it completely stops working, there are several user-friendly steps you must follow to troubleshoot your remote control.
Step 1
Replace the old batteries in your Toshiba remote control with a new set of batteries. Proceed to test your remote with its corresponding device.
Step 2
Remove the batteries from your Toshiba remote control if replacing the batteries doesn't fix the problem. You will need to reset the Toshiba remote; however, this needs to be done without the batteries being in the remote control.
Step 3
Press every single button on your Toshiba remote control, one button at a time. Press each button for 2 seconds. Replace the batteries and test the remote again.