Because your iPhone screen is relatively small, you often have to scroll down to browse through a list of messages or read a lengthy one. Sometimes, you start at the bottom, as with the Messages app, which displays the last messages first in your text conversations with others. You can navigate to the top of a list or conversation in several ways, depending upon your intent and urgency.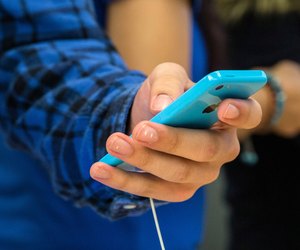 credit: Andrew Burton/Getty Images News/Getty Images
Drag Down
Tap the "Messages" app. You'll see either a list of conversations or the latest messages in your last conversation. Touch the screen with one finger and drag it downward without lifting your finger to review content slowly and deliberately as you move toward the top of the list or conversation.
Swipe Down
For a faster pace, swipe down instead of drag, lifting your finger as it nears the bottom of your iPhone's touch screen. Do this as many times as needed to arrive at the top of the list or conversation. Your content whizzes by quickly, but if you need to stop the scrolling midstream, tap the screen.
Shortcut
You can also scroll to the top with a tap. With the Messages app displaying your list of conversations or an ongoing conversation, tap the time stamp that appears on the status bar at the top of the screen. You're immediately brought to the beginning or the list. This shortcut is particularly helpful when you're perusing a long conversation comprising many back-and-forth messages. You may see a Load Earlier Messages button perched above the top few messages if the exchange is particularly long. It's a command you don't ordinarily see in lengthy conversations because, by default, the Messages app displays your latest messages at the bottom of a conversation. Tap "Load Earlier Messages" to see additional, earlier content.
Systemwide Use
In iOS 7, you can use the same methods of scrolling to the top of messages in most of your native iPhone apps, including Mail and Notes, and in some third-party apps. A double-tap rather than a single tap on the time stamp is necessary in Safari to return to the top of the screen.
Troubleshooting
If dragging, swiping or tapping your touch screen doesn't bring you the top of your messages as expected, you may have an overworked iPhone or a dirty screen. Turn the device off and on again to restart it. Then, wipe your screen with a soft, damp, lint-free cloth or remove any protective case or plastic touch screen cover before trying again.