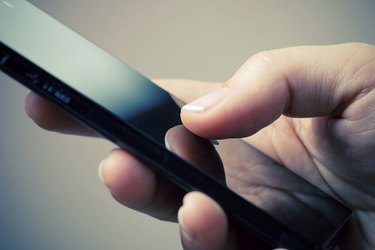 Smartphones are a part of daily life. They help us to stay connected. They entertain and inform. According to a study by the Pew Research Internet Project (2014), 90 percent of American adults own a cellphone. The most popular types of smartphones are the iPhone, Windows phones, Android, and Amazon's Fire Phone.
IPhone
Apple's iPhone is one of the best selling smartphones in the world. It runs Apple's iOS (operating system) with features such as Safari, FaceTime, and Siri, a personal digital assistant. Siri can remind you of appointments, and just by speaking a song title into the phone, you can play music hands-free. Additionally, you'll find free and paid apps on Apple's App Store. The latest iPhones on the market include the iPhone 6 (4.7 inch) and the iPhone 6 Plus (5.5 inch), priced at $199 or $299 respectively, with a carrier plan. The iPhone is available through AT&T, T-Mobile, Sprint and Verizon. If you choose to buy the phone without a plan, the price can range from $750 to $950.
Windows Phone
From Microsoft, Windows phones incorporate products such as OneDrive (for Microsoft Word, Outlook), Xbox, and Bing at the core of its operating system. It also uses Live Tiles, a main feature of Windows 8 for PCs, which keeps you updated in real time, whether it's news, the weather, or your favorite TV shows. Like the iPhone, Windows phones feature a personal assistant Cortana, who can help you avoid heavy traffic, give you birthday reminders and more. The Window's Phone App Store is where you'll essentially power-up your phone. CNET calls the Nokia Lumia 1520, Nokia Lumia 635, Nokia Lumia 1020, and the Nokia Lumia Icon the best Windows phones of 2014. These phones range in price from $200 to $750.
Android
From Google, the Android OS powers many types of smartphones on the market. An Android phone works with Google products such as Gmail, Google Drive, and Google search. Android phones can be used without having a Gmail account, but they work best with it. Popular phone brands using Android include the Samsung Galaxy Note 4, the Samsung Galaxy S 5, Nexus 6, HTC One and others. You can purchase free apps, movies, TV shows and more via the Google Play Store. Like most smartphones, Android phones come with preloaded apps and are available from AT&T, Sprint, T-Mobile, U.S. Cellular, Verizon Wireless and Virgin Mobile.
Amazon's Fire Phone
From Amazon, the Fire Phone has several features of note: Fire Technology, which can quickly identify songs, TV shows, QR and bar codes; a free year of Amazon Prime, a service that features streaming, as well as free shipping on Amazon orders; and Mayday, video chat support. It comes preloaded with the Kindle app, Silk browser, Amazon Instant, Amazon Music and more. To purchase more apps, movies, TV shows or other features, you can access Amazon's online store. The Fire Phone is available exclusively from AT&T and is regularly priced at $450. With a plan, you can get the phone for $1.