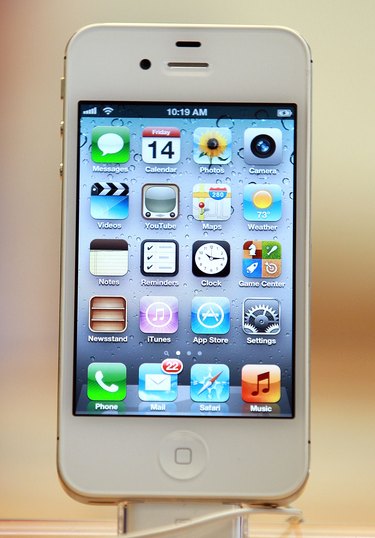 The iPhone restore process returns your device to its factory settings, removing any music or applications that you have added to personalize the phone. If, during a restore, you see a "Waiting for iPhone" message and then an error code, the connection between your phone and iTunes was lost. In most cases, resolving the issue is related to your USB connections.
Error 9
A "Waiting for iPhone" error is most often followed by an "Error 9" message. Error 9 occurs during the iPhone restore process and is the result of a lost USB connection. The iPhone must remain connected to your computer via dock connector to USB cable for the duration of the restore, and an interruption for any reason results in the error.
USB Troubleshooting
If you receive a "Waiting for iPhone" and/or "Error 9" alert in iTunes when you are attempting a restore, check the USB cable to confirm that it is completely plugged in to both the iPhone and USB port on your computer. Press each end of the cable into its port if necessary. If you have another free USB port on your computer, attach the iPhone to that port and try the restore again. Also try to use another dock connector to USB cable if switching ports is unhelpful.
Third-Party Conflicts
Sometimes a third-party security software, like Norton or McAfee, will interfere with your iPhone's ability to connect to the Apple server. The software erroneously detects your iPhone as a threat and will cause an interruption in your iPhone's communication with iTunes. Either add iTunes to your list of safe programs, or temporarily disable the security program while you restore your iPhone.
Switching Computers
As a last resort, you can restore your iPhone from another computer if the "Waiting for iPhone" error persists. If the second computer does not have iTunes, you will have to download a free copy from the Apple website before you can restore your device. When you go back to the original computer, iTunes may ask you to reauthorize that computer for the iPhone since it was restored on another unit.