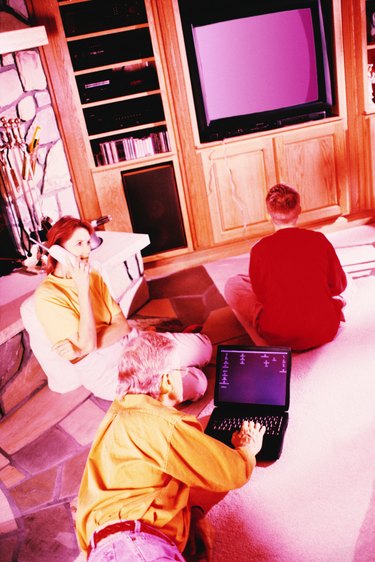 Wi-Fi televisions require your computer's wireless high-speed Internet connection to display online content. The televisions contain a built-in wireless adapter and let you watch programming directly and immediately from the Internet. Content includes movies, videos and social media network as well as other websites. Wi-Fi televisions vary in price and are available at electronics and retail stores as well as online electronics outlets.
Portability and Access
The televisions work anywhere in your residential or commercial structure as long as the wireless Internet signal is available. You don't have to run coaxial or Ethernet wires through your home or business. Just place the television on a flat surface, plug it in and follow the device's on-screen setup procedure. Wi-Fi televisions provide uninterrupted access to the Internet 24 hours a day, seven days a week. Also, you can still access the Internet on your computer and other devices while watching online programming on the television.
Ease of Installation
The televisions contain a user-friendly menu that walks you through setting up your Internet's configuration within the devices. Wi-Fi televisions work on any high-speed connection containing a router including broadband, Digital Subscriber Line, Integrated Services Digital Network and similar Internet services. The televisions also work anywhere in the world that has a Wi-Fi signal — even a Wi-Fi signal generated from a cellular phone.
Multimedia Elements
In addition to displaying movies, videos and social media network websites, Wi-Fi televisions can also access streaming Internet music and radio websites as well as websites containing podcasts and webcasts. The devices can also display websites containing slideshow presentations, Adobe Flash content and similar multimedia content.
Interfaces Well With Electronics
Like non-Wi-Fi television sets, you can connect other electronic devices to Wi-Fi televisions including DVD players and recorders, gaming machines, cable and satellite television converter boxes. You can even connect a VCR or digital video recorder to a Wi-Fi television and record content directly from the Internet for playback later. The other electronic devices do not conflict with the wireless Internet signal.