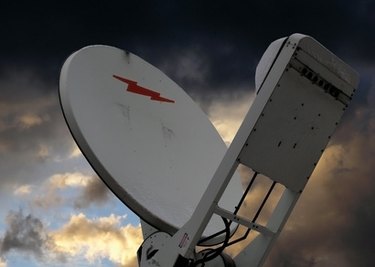 Dish Network has remained competitive in a market replete with other entertainment options like DirecTV and cable companies. Traditional cable companies up the stakes by bundling service packages with television, Internet and telephone. DirecTV competes with exclusive packages like the NFL Sunday Ticket. Dish Network competes with technology.
In Home Wireless
Dish Network receivers can be integrated into a wireless system. According to Dish Network, "All you need is a DISH Wireless Connector for each receiver you would like to connect." It's one of three ways to get connected to DISH Network for instant access to on-demand programming and to order pay-per-view.
Setting Up
Use a USB extender and plug it into your DISH Network receiver. Plug up your wireless connector to the extender. Follow the set-up prompts on your television. You'll have to locate your wireless network and enter your password. The system will automatically test your connection. Then your dish network system can operate on the wireless network.
TV Everywhere
Dish Network's TV Everywhere service allows customers to use their wireless devices anywhere they travel to watch Dish Network programming. On your wireless device, you can also search program guides, schedule a time to record a show on your DVR, and use your digital device as a remote control for your TV.