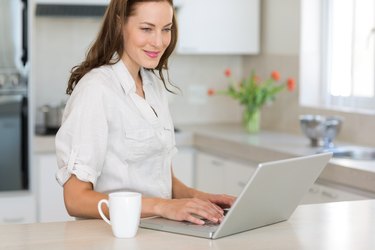 With products and services ranging from maps and movies to photos and technology, Yahoo is more than just another online email provider; it's an online company with specific advantages over other online companies. Yahoo Small Business, for instance, helps you create an online store that can make you money. While the Yahoo Store isn't free, plenty of other helpful free services are a click away.
Email Like a Pro
With Yahoo's Standard Yahoo Mail service, you can send email, receive it, manage contacts and maintain a calendar. All Yahoo mail is 100 percent encrypted and users have 1TB of storage to hold emails and files. You can also sign up for Yahoo Ad Free Mail. You'll pay a monthly fee for it, but unlike Standard Yahoo Mail, Ad Free Mail doesn't display ads, and Yahoo never deactivates it for nonuse. If regular email messages don't seem personal enough, use the built-in Yahoo Web Messenger to chat with others right from your email page. Some competing email services do not provide this type of messaging capability.
Explore Advanced Communication Methods
Although you can send instant messages from your Yahoo Mail page, you have the option to install Yahoo Messenger on your computer and mobile phone. With it, you can chat with others via voice and webcam. Messenger supports SMS and IM, and you can share photos and large files with chat partners. You can also use the program to make PC-to-phone calls. Some other services such as Skype and Google have similar software, but Yahoo's service is handy for communicating with other Yahoo members.
Grab Some Free Code
Getting Web apps to work correctly in all browsers can be challenging. Yahoo, unlike some Web companies, solves this problem by giving Web developers free access to its massive Yahoo User Interface Library. Containing free CSS and JavaScript code, the YUI consists of lightweight code you can use to build fast, scalable Web projects that can enhance your Web pages and make them more interactive.
Go Social Using Yahoo
Tumblr and Flickr, once independent blog and photo sites, now belong to Yahoo. Sign up for a Tumblr ID to create your own blog posts and share them with the world. Flickr is a free service where you view and share high-quality photos with the Flickr community.
Tap into a Massive Answer Pool
If you have a question, it's possible that one of the millions of Yahoo users has answered it at Yahoo's Answers site. Visit this site and browse categories, ask questions and view answers people have asked and answered. If you sign up for a Yahoo ID, you can create an Answers profile so you can answer questions, comment and vote on answers you see.
Put the World on Your My Page
When you type Yahoo into your browser's address bar and press "Enter," you arrive at a page that appears to discuss every possible subject. In addition to current headlines, you'll see a Trending Now section that shows you hot topics that are trending as you visit the page. Sign up for a Yahoo account, and you can customize your own My Yahoo page. Pick the topics you'd like your page to display and give it a personalized layout and theme.
Search the Web Using Yahoo
When you need to know the distance to Mars or a good quiche recipe, type your query into a Yahoo Search box to discover the answer. Like Google, Yahoo indexes the Web and makes information from Web pages available to Web searches. If you sign up for a Yahoo account, you gain additional benefits, such as the ability to view your search history. One of the advantages of using Yahoo Search over some smaller search engines is Bing. At the time of publication, Yahoo uses Microsoft's Bing search technology to perform searches.