Some news out of Yahoo—parent company of Flickr, the iconic photo sharing social network—has been disturbing. Last year, Yahoo revealed that it was hacked twice over the past few years, resulting in a privacy breach of more than 1 billion customers—while at the same time fending off allegations that it cooperated with US intelligence in surveillance of customer emails.
Yahoo's unfortunate hacks (and other bad news)
That is in addition to an October Reuters report alleging that Yahoo had assisted a US intelligence operation by scanning some 500 million user email accounts in real time without owner permission. Yahoo calls that report "misleading," offering a somewhat different version of events. According to Yahoo,"We narrowly interpret every government request for user data to minimize disclosure. The mail scanning described in the article does not exist on our systems."
Flickr: Losing its luster?
It's unclear how many people were affected by all this, but the damage to Yahoo's reputation--and by extension, that of sites like Flickr--is significant. Security analyst Rich Mogull, CEO of the Securosis security firm, says: "Yahoo! made business decisions to sacrifice the security of their customers; that isn't the kind of company I want to support and the burden is now on them to regain our trust."
In addition to security concerns, Flickr's members have watched the site's luster fade over time, especially as the buzz shifted to hipper venues.
Flickr is still a strong photo site
But despite Flickr's ups and downs, the service remains a valuable network for easy, free photo viewing, sharing, and storage. Yahoo reports 13.6 million photo uploads per day, and millions of users worldwide who have collectively uploaded more than 13 billion photos to the service.
Flickr defends itself against charges of security neglect citing more than $250 million in improvements since 2012. "Over the course of our more than 20-year history, Yahoo has focused on and invested in security programs and talent to protect our users," a Yahoo spokesperson told Techwalla.
But the damage may already have been done. Today, as Flickr users await Yahoo's acquisition, some users are looking for an exit strategy. Unlike simply closing your Yahoo email, saying goodbye to Flickr takes time and effort. If that's what you really want, here's what to do.
Recovering your photos
There are a number of ways to retrieve your photos from Flickr. You can download them directly, or use any of a number of tools and utilities to make the job easier. Here are three methods; use whichever one works best for you.
1. Download photos directly from Flickr
A key advantage of this approach is that your images retain their original resolution.
In the Camera Roll, sort by Date Taken and then Select All for specific time intervals depending on volume and resolution. Doing it in small chunks is best—choosing a large group can cause the process to fail. Then click Download, and those photos will arrive on your desktop in a Zip file to store anywhere you want. It can be a long process if you have thousands of photos.
If you took the time to name photos, they will maintain the name alongside coding and metadata, but your downloaded photos will not retain keywords, descriptions, comments, favorites, notes, or stats. If you download an album, the Zip file will include the name of the album, but individual photos will only have the Flickr database ID.
2. Use the Downloadr
Flickr Downloadr, a free, open source app for Mac, Windows, and Linux, offers an easy way download your photos en masse to your hard drive or to an external hard drive. Just use the app to select the images and it will deliver your photos to you in a Zip file. Unlike Flickr's built-in downloader, this app will save photo names and descriptions--but in a separate text file, which is better than nothing, but not the same as embedding the information in the photo. Make no mistake: Recreating descriptions for every single image would be a tedious chore if you have to do that for thousands of photos.
You'll want to download your images or Zip files to a hard drive first. (I used a 2TB Seagate Backup Plus drive connected to my MacBook Air.) If you have lots of storage space, you can park the images right on your hard drive, but you might not want to keep a large library there forever.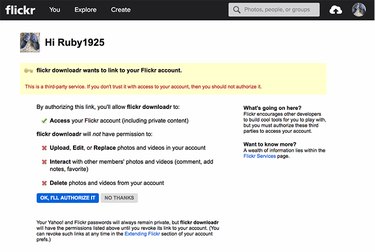 3. Use Bulkr
Bulkr, an Adobe Air app, also will download your photos en masse. The free version swiftly tears through your photo collection, depositing each picture into any folder you designate. However, if you pay for the pro version, it will download photos in full resolution, let you access all your photo sets, and more.
With your originals in hand, you then have a choice of where to store them: iCloud, DropBox, Google Photos, SmugMug, and others. Flickr is free, as is Google Photos. Amazon Prime members get unlimited storage space for free. Other services are available via subscription for a fairly modest price and all have companion mobile apps.
Preserve your photos on another cloud service
Are you a Dropbox user? Once your photos arrive on the desktop, you can immediately upload the entire folder to Dropbox by right clicking and choosing the Move to Dropbox command.
You can also easily import them into Apple Photos, or upload them to another cloud-based app like Google Photos or OneDrive.
Looking to the future: Flickr alternatives
There are plenty of places to backup your photo collection, even if you decide to stay with Flickr: Redundancy is good. Here are a few good examples.
500px is a stellar community for photo pros and enthusiasts. It offers online photo sharing on the web and via iOS and Android apps. It lets users upload photos from local devices, or via Dropbox, Flickr, Facebook, and more, featuring an attractive album layout, commenting, and user voting.
The free plan allows uploads of 20 images per week and lets users upload and earn royalties and browse images from other 500px members. Annual premium plans starting at $25 per year also offer Google Analytics integration.
Dropbox comes in handy for storing and backing up your photos and has an automatic camera uploader that will upload your new photos as you plug into your computer. You can view images directly in Dropbox on your desktop or on your mobile device.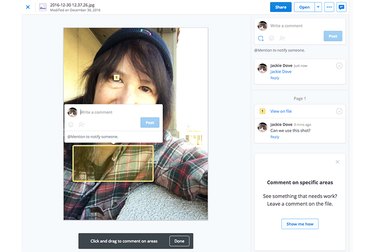 Go ahead and add comments to photos, including contact names, or create and share folders with specific shots to share with anyone, even if they do not have an account.
SmugMug photo sharing targets pro and enthusiast photographers with unlimited storage and uploads starting at $3.34 per month (billed yearly). For that you get a customized website, full screen galleries, drag and drop organization, password protection, print ordering, and more. It even allows video and GIF uploading. Four plans ranging in price from $5 to $25 monthly offer increasingly professional services.
Google Photos, a standalone photo sharing service, offers unlimited photo and video uploads and aggregates and organizes visual assets from your various devices and social media profiles, alongside some great photo editing tools.
You get unlimited uploads, but the service compresses your images if they exceed 16MP, so it is targeting consumers and mobile shooters as opposed to photo pros. Paid plans start at $1.99 per month for 100GB of storage.
iCloud Photo Library, an offshoot of Apple's iCloud service, touts seamless integration and updates across all your devices, making it easier to manage your collection via drag and drop. Edits are automatically updated everywhere. It also lets you create shared libraries with friends and family in their photo streams. A 5GB free version won't take you far: You'll need to purchase a premium plan ranging from 99 cents to $13.99 per month for up to 1TB of storage space.
Say goodbye to your Flickr account
After you have downloaded and preserved any photos that you want to preserve, you might want to permanently delete you old Flickr account. Yahoo offers a straightforward way to do this:
Log in to Flickr.
Click your avatar and click Settings or visit Your Account.
Click the Delete Your Flickr Account button.
Review the presented information, and then click OK-Next.
Type in your password.
Check Yes, I Fully Understand. Think twice before proceeding because after the next step, it cannot be undone.
Click Delete My Account.
Flickr was created as a social network to share and comment on photos, and not merely a storage depository for every single cat photo you shoot. Nonetheless, offering a full terabyte or even unlimited storage makes it tempting to park all your pictures in the service, while exposing only a small percentage to public eyeballs.
The bottom line is that online services are inherently ephemeral. Companies come and go; cloud spaces can be hacked or damaged; corporate crises can suddenly make a site an unattractive place to keep your stuff. You certainly don't need to leave Flickr behind, but you've got the tools to do it--and you can follow the steps in this article to make sure your photos are redundantly backed up and preserved for future use and enjoyment.