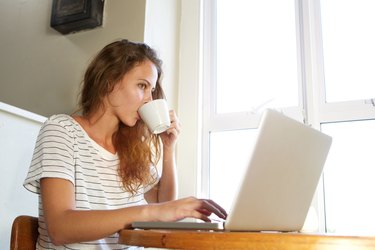 Having a piece of software that automates the process of desktop publishing may seem useful right off the bat, but Microsoft Publisher, which was broken out into the Microsoft Office Suite 2010 Professional version, offers useful features that are both fairly obvious and well-hidden. Publisher provides users with a small virtual team of designers, proofreaders and layout personnel, all within its menus, toolbars and buttons.
Templates
Templates are one of the first items Publisher users encounter, as they're on the opening page of the program, and they're also one of the most populous. Publisher comes standard with templates to help users create newsletters, brochures, business cards, greeting cards, programs, envelopes, labels and other publications. This collection is useful because Publisher has already taken all of the measuring, insertion and design out of the equation. A user could simply open and print one of Publisher's premade items, but the option to completely customize these templates with text, photos and artwork is always available.
Shapes
Drawing circles and squares may not be the first thing that comes to mind when putting together a desktop publishing piece, but Publisher takes shapes to a new level. Under the Insert tab's Shapes button is a fly-out list of many different premade shapes. After adding a shape to a page, the user has the ability to fill it with color, change the border and even add design elements such as shadows, embossing and highlighting. But the Shapes button has one other useful tool, called the Scribble pen. This pen allows users to draw their own shapes from scratch, such as artistic whorls and swirls to actual signatures that mimic their hard-copy counterparts.
WordArt
Publisher offers a feature found in several other Microsoft Office suite programs called WordArt. The WordArt button on the Insert tab helps users combine words and art to create logos, desktop-publishing material covers and any other nonpictorial design element required. To use WordArt, a type of style is specified, from rainbow letters to text that looks as if it were carved out of tree bark. Users have control over the size and font of the letters and then may position, shrink, enlarge and distort the WordArt to their preferences.
Flow
Although not all Publisher users create newspapers or magazines, the program's text box linking and flow process may prove useful in other projects. When typing in any multicolumn text box format, text in Publisher is set up to flow from one box into the next. This saves users time because they don't have to position text letter by letter, and it allows stories to flow over multiple pages. The purple Text Box Tools tab appears on the top of the Publisher workspace whenever the first text box is added or a template with text boxes is opened. From there, users may link text boxes to flow or, if preferred, break the flow – the option to flow text manually instead of having Publisher do it automatically is always available.