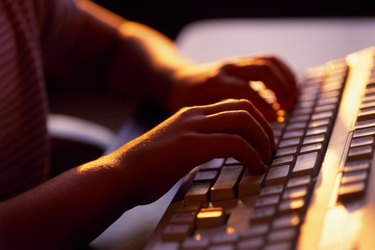 American Online is a resource for many Internet activities including instant messaging, email and checking the news. If your AOL account is suspended, you can't access instant messaging or email until your account is reinstated. The process you go through when your AOL account is suspended depends on the reason it was terminated.
Suspicious Activity
You may receive a suspended account message if suspicious activity is discovered on your account. AOL (aol.com) assumes this suspicious activity is due to someone other than yourself illegally accessing your account. To fix this problem, you need to reset your AOL Instant Messenger password. Open the AIM window and click "Options" or "Menu," depending on your version. Click "Settings," "Sign In/Sign Out" and click "Change My Password" at the bottom of the screen. Answer your security question and hit "Continue." Click "Change Password" and type a new password, six to 16 characters in length, in the "New Password" field; then retype it in the "Confirm Password" field and click "Save."
Terms of Service Violation
Your AOL account can be suspended due to a terms of service violation. You agree to AOL's terms of service when you set up your account. It includes terms such as not sending unsolicited bulk communications or posting illegal or harmful content. If you feel AOL shouldn't have suspended your account, you can email or write the company. Include your account information and your reasons for disagreeing with the suspension.
User Name Canceled
If your user name was canceled, you can no longer access your account. You can restore your AOL user name within six months of canceling or deleting it as long as there's still a master user name associated with your account. Go to AOL's page and "My Account," and sign in with your master user name and password. Type the answer to your security question and click "Continue." Click "Manage My Usernames" under "Username Options" and then click "Start" under "Restore a Username." Click the username you want to restore from "Recently Deleted Usernames" and hit "Restore."
Billing Issues
Your account is blocked or suspended if you have outstanding billing issues with your AOL account or AOL Premium paid service. Go to AOL's billing website to find out what the billing issues are and instructions on how to resolve the issue.
Age Restrictions
Your service is suspended if you're under 13 years old. Enter your birth date correctly in your account information. You may have to use a credit card to verify your age. AOL charges the credit card $1 for verification but then refunds the amount. If your user name is in the "Kid's Only" category, parental controls are set to block instant messages and access to the AIM service. The person with the master user name must access your AOL account and search for "Parental Controls" and then adjust the age category on your username to "Young Teen (13-15)" or older.