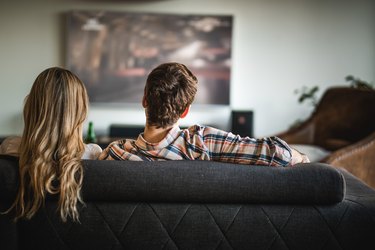 As more consumers have cut cable entirely, finding a way to stream TV for free has become essential. YouTube is a great resource, but you'll be limited in exactly what you can watch, especially with so many license holders enforcing copyrights. Project Free TV was, at one time, a great way to get access to some of the shows you couldn't find for free elsewhere. Unfortunately, it was taken down, and the sites using its logo and variations of its original domain are impostors.
What Is Project Free TV?
Project Free TV and Project Free Movies weren't sites that allowed you to watch free TV shows and movies on one site. Instead, they were search engines that helped you identify free content that had been posted online. You chose a TV show and Project Free TV offered a list of links to sites providing it for free.
Keeping up with sites like Project Free TV can be tricky, unfortunately. They're usually taken down, only to reappear under new domains repeatedly. Not surprisingly, other nefarious sites have popped up under domains similar to Project Free TV's, putting you in danger of infecting your device with malware if you aren't careful.
You'll find no shortage of sites out there when you search for Project Free TV, but those project TV show variations are all impostors. At worst, you'll put your device at risk and, at best, you'll find that they offer only a list of broken links.
Tracking the Impostors
Imposters are only part of the risks you face. With any of these free sites, clicking on a link can send you to a questionable site. If you're prompted to download a flash update or any other software, decline and exit the page immediately. You can also minimize your risk by activating the ad blocker setting on your browser.
If you plan to watch a show on a site that's like Project TV, it's important to have up-to-date anti-virus software that will catch malware before it can infect your device. Even when you do find a site, though, don't get too attached. The questionable legalities of these sites can make them short-lived.
Alternate Project Free TV Sites
If movies are more your thing, you don't need sites like Project Free Movies to find those, especially if you're into older movies. You can find many that you're looking for on YouTube, but there's also Crackle, Popcornflix, Viewster and Yidio. For newer movies, though, many sites promising them for free are virus-ridden.
One issue with watching a movie online for free is extremely low resolution. If you're trying to watch the latest Marvel action film on your big screen, you're going to be sorely disappointed. It's one thing to stream low-resolution video on your laptop, but on a 55-inch TV, it's a completely different experience.
Legalities of Free TV Sites
Whether you're watching Project Free movies or TV, you may wonder, regardless of the site, if you can get yourself in legal hot water. Many of us have heard stories of people being fined or jailed for downloading music and movies from illegal websites. With streaming, though, you generally aren't downloading anything, but likely making malware your biggest risk.
Generally speaking, if you're watching shows on a site that has commercials or requires a monthly membership, you're safe from personal liability. Project Free TV attempts to shift some of its own liability by stating that when using their site, you "watch content hosted on third parties" and by claiming no responsibility for what those sites post. However, when you stream video, you're simply allowing it to pass through your own connection, which means that, chances are, the powers-that-be will go after the site hosting the content, not the viewer.