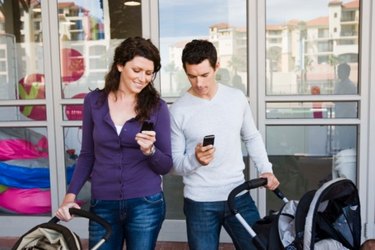 The Short Message System allows a cellphone or other device to receive text messages. Many Internet sites, such as banks, social networks and retail stores, need to verify the identity of an individual. The internet site can ask the individual to use a cellphone to provide additional proof of his identity, by sending an SMS verification message to his cellphone.
Significance
The SMS message typically consists of a unique code that the organization sends to the user's cellphone. After the user receives the message on his cellphone, he may type the code into the organization's website or email the code back to the organization. Because the organization uses both a computer and a cellphone in this process, SMS verification is a two factor system, so it is more secure than a single factor system that only uses the user's computer.
Technical Issues
One drawback with SMS verification is that the user must have a phone that is capable of receiving these text messages. Most modern cellphones do have this ability. Land-line phones cannot always receive text messages, although some answering machines can receive a text message and play it back with a recorded voice. A company that uses SMS messages may need to offer an alternative, such as a voice verification message.
Privacy
If a company uses SMS verification, it obtains additional information about a device that the user owns, such as her cellphone number. This is a privacy risk because the company could use this cellphone number to send advertising messages to the user, or sell the number to other companies. The company may also need to store this cellphone number on its own servers to prevent another user from registering the number again himself. The company may establish an SMS privacy policy, which states that it will not share the number with other businesses or use it to send other ads.
Cost
Another drawback of SMS verification is that methods such as email verification and phone calls normally do not cost the user money, but an SMS message may raise the user's phone bill. This usually isn't a problem when the company only needs to send a single verification message at the start of its relationship with the consumer. If a bank sends out an SMS message to confirm every deposit and withdrawal, the frequent messages have a larger impact.