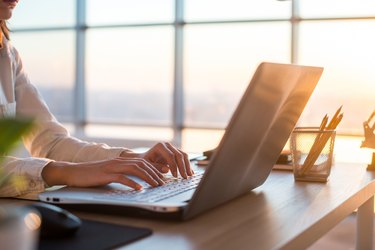 Internet Explorer 11 securely consolidates website passwords in Windows 8's Credential Manager for both the desktop and modern app versions. Through this manager, you can view and selectively remove saved passwords for either IE11 interface. However, only the desktop version supports simultaneously removal of all saved passwords in the browser.
Using Credential Manager
Open the Windows 8 Control Panel, select "User Accounts and Family Safety" and then choose "Credential Manager." The "Web Credentials" tab is selected by default, which displays a list of websites for which you have saved login information. Click the drop-down arrow next to any entry to see its details. Click "Show" and enter your Windows password to view the concealed password. If you want to remove a password, click "Remove."
Removing Passwords Directly From the Browser
The modern app version of the Internet Explorer browser only offers individual removal of credentials, so you'll need to repeat the procedure for each password you wish to remove. To remove passwords, open the modern app's Settings, click "Accounts," choose a listed site and then select "Remove." The desktop version of the Internet Explorer browser gives you the option to remove all passwords simultaneously: Press "Ctrl-Shift-Del," check "Passwords" and then click "Delete."