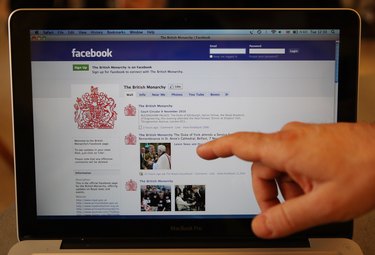 Facebook lets you type or paste links into status updates and share them on your wall. Some links, including YouTube videos, embed into the wall so that you can interact with them without leaving the Facebook website. However, not all YouTube videos are embeddable, and even embeddable videos can sometimes fail to show up.
Embedding Disabled
Some YouTube videos won't embed in external websites like Facebook due to the video owner's stated preferences. If you're not the owner of the YouTube account where the video is hosted, there's nothing you can do to change this. If you're the owner, log in to your YouTube account. Click your username in the upper right corner and click "Videos." Click the "Edit Info" under the video you want to share on Facebook. Scroll down to the Embedding section and click "Yes, External Sites May Embed and Play This Video." Now share the video link in a Facebook status to embed the video on your wall.
Thumbnail Removed
When you compose a Facebook status that includes a link, Facebook also posts the link title, description and a thumbnail image from the destination website. When the link is a YouTube video, the thumbnail is a single frame which you can click to play the video. Without the thumbnail, the video won't show up. Therefore when sharing a YouTube link, deselect the check box labeled "No Thumbnail" under the status update box to ensure the video shows up.
Preview Discarded
One option when posting a Facebook status update that includes a link is to remove the preview completely by clicking the "X." Not only the thumbnail image but also the title and description are excluded from appearing. If you paste a YouTube link into the status box but inadvertently click the "X" before posting the update, the video won't show up.
Credentials Denied
If you've set up your YouTube account to automatically post your uploads to your Facebook wall as status updates but the videos aren't appearing, Facebook might have rejected YouTube's request to access your wall. Log in to your YouTube account, click your username in the upper right corner and click "Settings." Click "Sharing" in the left sidebar, and then click "Connect" to the right of the Facebook logo to reauthorize YouTube. Click the "Upload a Video" check box in the activity sharing list to the left of the Facebook logo. Your future YouTube uploads will appear on your Facebook wall.