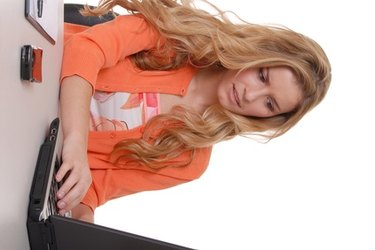 When your business relies upon visual details, creating presentations with sharp graphics is important. Sometimes, converting a PowerPoint presentation components to a different format such as JPEG affects the quality of the photos. While changing a PowerPoint presentation slide to JPEG is easy, checking the settings for compression of pictures before saving allows for the creation of high-resolution graphics.
Purpose
After you have developed a good PowerPoint presentation, you may find you want to use one particular slide for placement on a Web page or brochure. The JPEG or JPG format is well-suited for complex pictures and photos with many colors, since it supports 16 million colors. When compressed, however, JPEGs may lose some detail. While the effect may not be readily visible in PowerPoint presentations, you can keep the loss from occurring when you convert the photos from the slides.
Resolution
Select the slide you want to save as JPEGs from your presentation. Click the "Picture Tools" option from the menu and click "Compress Pictures." The choices in the middle section of the dialog box affect the resolution. Click to place the radial button next to "Print" to set the dots per inch -- or dpi -- at 200. The higher this number, the better the resolution for the picture will be. The default resolution for saving as Web images in 96 dpi, so the print option results in higher resolution.
Compression
Ensure that the box next to "Compress Pictures" in the Compress Pictures dialog box does not have a check mark in it. Compressed pictures take up less memory or drive space, but you may lose quality if you compress the picture, particularly if you enlarge and print it. The blocks making up the picture become more evident as you compress and then enlarge the photo. Before you save the changes, you can undo compression in PowerPoint by clicking "Reset Picture" from the Picture Toolbar, but once you save the photo, compression cannot be undone.
Save
Click "OK" to close the Compress Pictures dialog box. Click "File" from the menu and "Save As." Click the arrow next to "Save as type" to open the drop-down menu and click "JPEG." Type a name for the new file and click "Save." PowerPoint prompts you to save either the single slide or the entire presentation in the JPEG format. Click to place the radial button by your choice and click "OK."