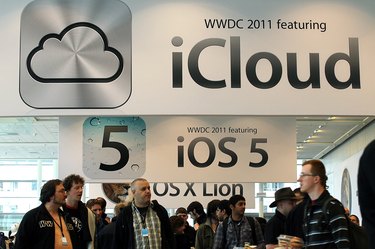 The default texting app on the iPhone, Messages, sends texts using a standard method common to all cell phones. These texts will not use up your phone's data plan, but do come out of your texting plan. If your coworkers also have iPhones, you can save on texting costs by sending iMessages instead, which do not count as text messages. These messages will use a small amount of data unless you send them over Wi-Fi. You can also install third-party texting apps to write to other types of phones without receiving texting charges.
SMS & MMS
The iPhone supports the Short Message Service and Multimedia Messaging Service, standard to all current cell phones. When you send a text or multimedia message using the built-in Messages app to any non-iOS phone, your iPhone will send it using SMS or MMS. It will appear on the phone bill as part of your texting plan. These messages do not travel over the Internet or use your data plan, but do require a cell signal – you can't send an SMS text over Wi-Fi.
iMessage
Apple introduced the iMessage feature with iOS 5. Using iMessages, you can send text and image messages to other iOS devices without using up a text from your texting plan. When you use the Messages app to send a text to another person using an iPhone, your phone will automatically use an iMessage instead of SMS. This allows you to send your message over Wi-Fi or your cell data network. Sending an iMessage over the cell network will use some of your allotted data.
Setting up iMessages
To enable iMessages on a new iPhone, open the "Settings" app and tap "Messages." Press "Use your Apple ID for iMessage." Log in to your Apple account and check which phone numbers and email addresses you want to receive iMessages on. Tap "Next," then press "Send & Receive." Choose which number or address you want your iMessages to display as a return address. After initial setup, return to the Messages settings any time to switch iMessages off or on.
Other Texting Apps
Many third-party developers have their own texting apps in the App Store. Using these apps gets around your cell provider's texting charges, but will use up your data unless you're connected to Wi-Fi. Each app has its own rules and restrictions – some require you to receive texts at an email address or a different phone number, or have their own usage charges.