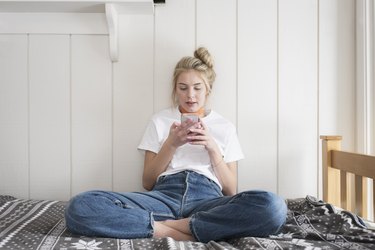 There are some cases where you may not want to give out your real number, which is why using an anonymous or burner number is often a good option. When it comes to texting, you can keep people from knowing your real number by sending anonymous texts through a few different methods.
How to Send Anonymous Texts:
Send Anonymously Using Email
One of the easiest ways to send an anonymous text is via email. Mobile network providers like Verizon, AT&T, T-Mobile, Sprint and others allow you to send text messages to a person's number this way. You need to know the recipient's wireless network, then use the proper format. To send a text to an AT&T number, for example, you would use 10digitnumber@txt.att.net. Texts sent to customers of Verizon would go to 10digitnumber@vtext.com. For Sprint, it's 10digitnumber@messaging.sprintpcs.com. And for T-Mobile message recipients, use 10digitnumber@tmomail.net. You can create a new email address and send anonymous texts to any of these by typing the phone number plus the @ address into the "To:" field, then typing in a subject followed by the message. Note that emails should be kept under 160 characters and should not have a picture since this won't be received on all wireless networks.
Text Anonymously With Textfree
Apps like Textfree allow you to sign up for a free secondary phone number. This number can be used to call and text people. It's also a good option for texting someone anonymously since you can abandon the Textfree number at any time in favor of a new number. Text someone anonymously with Textfree by downloading the Textfree app from the App Store or Google Play Store and then launching the app. Follow Textfree's prompts to sign up for your account and free number. Type in the number of the person you want to text, and then type your message along with a picture if you want to include that. You can send additional texts from this number, or you can request a new number in Textfree's Settings section.
Text Anonymously With Text Burner
Text Burner is another option for blocking your number when texting. You can change numbers whenever you want and can select a number from countries including the US, UK, Canada and Australia. Download the app for free from the Google Play or App Store and then type in the desired area code for your number. Select a number and then tap the "New Message" icon to send an anonymous text. Type in your message and then tap "Send."
Be Anonymous With Textem
You don't have to use email or download an app for your smart phone in order to send anonymous texts. Instead, you can use the free textem.net website. Go to the website and type in your recipient's phone number. Select their "Mobile Carrier" from the drop-down menu and then type in your message. Note that the message should be kept under 155 characters to avoid getting the message split into two texts. Click the "I'm not a robot" checkbox, then select "I agree with the terms of use" and click "Send Message" to send your anonymous text.