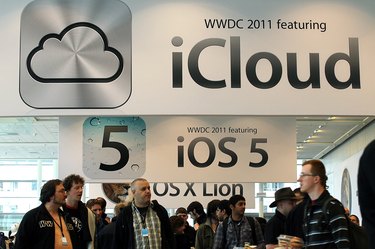 When selecting mobile phones for your employees or your office, the operating system plays a major factor in determining features. All of Apple's iPhones run on an operating system named iOS, formerly known as iPhone OS. The iPhone comes with iOS built in, so you don't need to install it yourself. Apple updates iOS with new features, fixes and security patches regularly. To keep your phone up to date, you should download and run the iOS updates.
Versions
Major releases, represented by version number changes such as iOS 5 to iOS 6, add entirely new features and apps. For example, iOS 5 added the Siri voice command system, and iOS 6 removed the Google Maps app and added a proprietary Maps app made by Apple. Minor updates, such as the 6.1.3 update, fix security vulnerabilities and repair bugs in the operating system.
Features
Using iOS, as opposed to another mobile operating system, such as Android, determines the basic features that come built in to the phone. These vary between iPhone model and iOS version, but universally include a number of apps such as a calendar, email, the Safari Web browser and access to iTunes and the App Store. In addition, iOS supports the same basic phone functions found on an ordinary cell phone: placing and receiving calls and texts along with a contacts list.
Apps
Only devices running iOS, such as the iPhone, can install apps from Apple's App Store. Since adding this feature in iOS 2, the App Store has hosted hundreds of thousands of different apps. These add new features to the iPhone, ranging from word processing and finance management to video editing and file synchronization. Third-party developers can market iOS apps either free or for sale starting at 99 cents.
Updating
When Apple releases a new version of iOS, you can update through iTunes on your computer by clicking the "Update" button on the iPhone's information screen. This will download the upgrade and apply it to your phone over the USB cable. On iPhones running iOS 5 or newer, you can also update directly on the iPhone by opening the "Settings" app and tapping "General" followed by "Software Update." Note that older models of iPhone do not support the newest updates: the iPhone 3G, for example, cannot update past iOS 4.