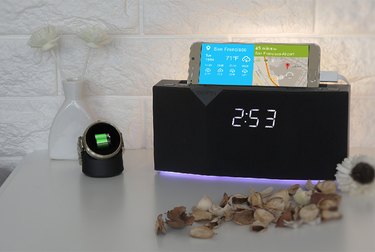 Clocks aren't as popular as they once were. After all, your smartphone is a clock, wristwatch, and even an alarm clock and kitchen timer all rolled into one. But standalone clocks have a certain je ne sais quois, especially when they can pull double duty as a charging station, help lull you to sleep, or do a better job of waking you up. We've found five of the coolest.
iHome's Color-Changing Bluetooth Clock Charger
If you do use your phone as an alarm clock, why not charge it at the same time? With this color-changing gizmo from iHome, you can charge Android, iOS, Windows, and other Bluetooth-enabled devices overnight. Plus, while you're not sleeping, you can use the built-in Reson8 speaker to listen to streaming music or field calls on speakerphone.
You can customize both the LED cabinet color and alarm display. FM radio is included, too, with six presets. The speakerphone offers a built-in mic, voice echo cancellation, and answer and end controls.
Beddi App-Enabled Smart Clock
While the Beddi clock also works as a charger and speaker, it adds more bells and whistles for users of iOS and Android devices.
For starters, Beddi lets you program a Spotify playlist. It also comes with a wakeup light that simulates sunrise, white noise and nature sounds to soothe you to sleep, and color-changing LEDs.
Beddi supplies three programmable smart buttons, each with three modes, for controlling Apple HomeKit and Nest Learning Thermostat smart devices, as well as for making commands like hailing an Uber. It also integrates with Google Maps for up-to-date traffic reports before you leave the house. It includes a pair of USB ports for charging devices.
Silence
Maybe some family members don't like to be jolted awake by music or ringtones. Well, there's an alarm clock called Silence that doesn't utter a sound.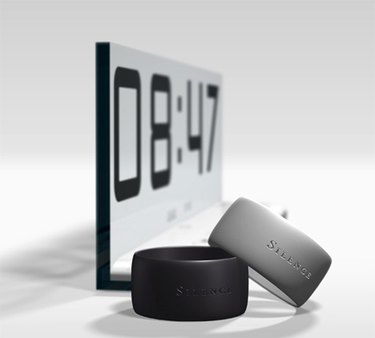 Instead, Silence sends vibrations to a wristlet band which you wear while sleeping. You can program in multiple alarms to help you wake up gradually.
You can engage a snooze function, too, by shaking your hand. Yet each successive time you want to snooze, more movement is required, as you get ready for the day ahead.
Silence is a design concept, so you may not be able to buy it anytime soon. But we love the idea.
CoffeeTime Coffee Maker Clock
Speaking of design concepts, you may know the theory that the aromas can stimulate you awake in the morning. The CoffeeTime clock tries to get you to wake up by smelling the coffee.
The attractive, hourglass-shaped clock uses coffee capsules, which you insert before going to bed. When you arise, you'll have to set out of bed to grab your coffee, but at least you won't need to walk all the way to the kitchen
Dragster Wake-Up Clock
Do your kids tend to oversleep and arrive late at school? An action-packed clock like this racetrack- and dashboard-inspired model from Summit Racing can be a fun way to start the day on time.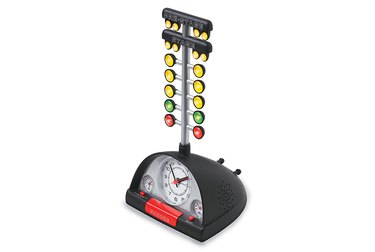 As the Genuine Hotrod Hardware alarm sounds, the staging lights illuminate and flash down in sequence. When the last light turns green, the revving engines of 8,000-horsepower dragsters rocketing down the strip is bound to wake up almost anyone!