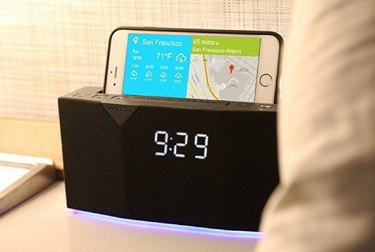 Spring has officially spring forward. At 2:00 a.m. on Sunday, daylight savings time went into effect, making sunrise and sunset now an hour later.
Most electronic devices like cellphones, computers, and clocks in newer cars automatically advance, but you still have to manually adjust the time on your watches, clocks, and microwaves.
Unfortunately, there's no button you can press to quickly get your body and mind adjusted to the time change. You're likely inadvertently going to sleep later and waking up later, so if you need the support of a trusty alarm clock, here are some good, smart ones to choose from.
Witti Design Beddi Smart Radio Alarm Clock
The Witti Design Beddi is three devices in one: an alarm clock, a Bluetooth speaker, and a smart home hub. Through its app, you can set up to four different alarm times, which can be repeated however often you want. Select alarm sounds from the Beddi's library, use your own music, or your phone's Spotify playlist to set the sounds.
It also has two USB charging ports, a phone cradle, a programmable ambient light strip and wake up light, and an ambient noise generator to help you fall asleep.
Vobot Smart Alarm Clock
If you want an alarm clock that doesn't take up too much space, the Vobot is your guy. The device pairs with Amazon's Alexa, so you can use voice command to set an alarm (or a recurring alarm), as well as a timer and reminders. You can also use it to make shopping lists, call an Uber, turn on lights, make coffee, etc. You know, the usual Alexa stuff. And if you subscribe to Amazon Music Unlimited, you can choose any song to play as your alarm tone.
Kello Smart Alarm Clock
Kello does a solid job of waking you up in the morning, but it also aims to change the way you sleep. Just like the other alarm clocks, it can connect to your smart home devices and play music from your phone, but it also comes with sleep programs to help you develop better sleep habits. Choose from three colors: cerulean blue, taupe grey, and mint green.
Buy it at Kello for $149.