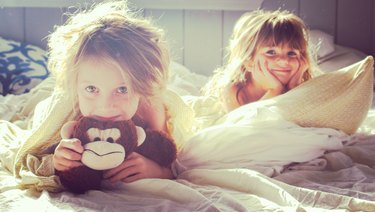 Getting a full night's sleep is a wonderful, beautiful thing. Your kids sleep in their rooms, you sleep in yours, and life is just good. But morning time can be a whole different story.
Since most toddlers can't tell time yet, when they wake up, they think it's time for the entire family to wake up. It could be 4 a.m. or 9 a.m. — to them, morning is morning. But there's a way to teach your kids to stay in bed, or at least in their rooms, until a reasonable hour.
The OK to Wake! alarm clock and nightlight turns green to indicate to your kids that it's OK to get out of bed. Easily programmable, the clock glows green and a cute little smiley face shows up when it's "OK to Wake!" Simply set the time of morning (or after a nap) you'd like it to turn green. You can choose how long you'd like for it to stay green, and switch off the light by tapping the foot of the clock.
The clock takes AA batteries, but also comes with a USB cord to ensure longer battery life. Once your kids learn to tell time, it can be used as a regular clock as well. Plus, it can be used as a nightlight with dimming options.
So, basically it's the greatest thing to ever happen to sleepy parents. Not only will this alarm clock help you and your family get more sleep, it'll also teach your kids independence.
The OK to Wake! alarm is available on Amazon for $30.