Twitter is often in the news as the social network of choice for celebrities and politicians. If you're interested in following them, keeping up with your friends on the site, or posting your own short updates, you can create a free account on the service.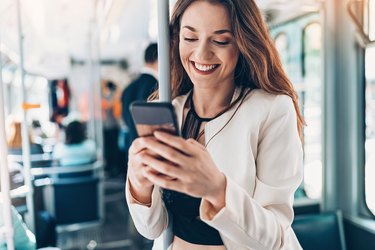 What Is Twitter?
Twitter is a social networking service focused on short updates, called tweets. Since it was founded in 2006, it's undergone some changes: Users can now post tweets up to 280 characters in length – up from 140, a limitation originally based on cellphone text message lengths. A tweet can contain an original comment, reposts of other people's tweets, embedded photos and videos, and tags for people using the @ symbol.
Still, Twitter's core concept of posting short thoughts or status updates for followers to see remains the same.
How Does Twitter Work & How Do You Use It?
If you just want to read a specific publicly posted tweet or see a particular user's feed, you don't need to create an account. However, if you want to post tweets of your own, see an automatically curated feed of tweets from your followers and people you follow, and see tweets from private accounts, you need to set up an account.
To do this, either visit Twitter's website or download its app for your iPhone or Android smartphone. On the site or app, follow the prompts to sign up for an account, picking a username and password, and verifying your account with a phone number. Since your username is shown when you follow people and post tweets of your own, make sure to pick one that you want to represent you on the service.
How to Find People to Follow
Once you have a Twitter account, you'll likely want to find people to follow. Their tweets will show up in your timeline when you log in to the Twitter website or app.
Twitter may offer suggestions of people to follow based on who you already follow and interests you may have indicated or phone contacts you may have uploaded when you signed up. Often, these suggestions include celebrities as well as people you know as determined by your phone contacts. You can accept or reject any of the people Twitter suggests you follow.
If you know the username of someone you want to follow, you can search for the username or real name in the Twitter search box. Click on the correct profile in the results and click the "Follow" button. You can also click to follow someone if you see a tweet from their account appear anywhere on the web, including on Twitter itself.
Reading other people's tweets is only half the Twitter experience. If you're enjoying Twitter, you'll probably want to post some tweets of your own.
Twitter presents a prominent box to type a tweet into, similar to an email program's compose tool. Type the message you want to post, up to 280 characters, and then click or tap "Tweet." You can also click icons in the tweet box to upload images or videos from your phone or computer, add your current location to your tweet, add an animated GIF, or add a poll to the tweet for your followers to take.
If you see someone else's tweet that you like, you have a few options. You can click or tap the "Like" button below the tweet, indicated by a heart symbol, to let whoever posted it know that you liked the tweet. Your likes are publicly available, so it's a good idea not to like anything you might find embarrassing to be associated with.
You can also retweet a tweet that you like, meaning that it shows up for your followers indicating who originally posted it and that you retweeted it. To do this, click or tap the "Retweet" button, represented by an icon of two arrows forming a circle. As with likes, people can see the tweets you have retweeted.
How to Handle Unwanted Tweets
Sometimes you may see a tweet that you don't like. If you disagree with the tweet, but it's not offensive or harassing, you may just let it be. However, if the tweet is harassing, threatening, or otherwise seems to violate Twitter rules, you can report it to the company. To do this, click or tap the menu button in the top right corner of the tweet and click "Report Tweet." This enables you to say what is offensive about the tweet.
If someone on Twitter annoys or harasses you, block them from seeing and interacting with your tweets. To do this, click the menu in the top right corner of the tweet and then select "Block." You can use the same menu to mute a user, which causes their tweets not to show up on your timeline, although you will still be listed as following them, and they won't be told they've been muted.
How Do You Tweet to Someone?
There are three ways to contact a particular person on Twitter.
One way is to include their username immediately preceded, with no spaces, by an @ symbol in a tweet, such as "@username." In that case, the person usually receives a notification that you mentioned them in a tweet and can respond to continue a discussion with you.
To respond to a particular tweet, click or tap the "Reply" button below the tweet. It looks like a conversation bubble and lets you post a tweet in reply to another tweet. The person you reply to and your mutual followers see your reply tweet and can discuss it with you.
If you'd prefer to have a private discussion, click the "Message" button below one of a person's tweets. It looks like a mail envelope. Use this button to send someone a direct message that only the two of you can see. Some users only allow direct messages from people they are following, so you may not be able to send one in every situation.