More than 800 million users log on to Instagram every month to share photos, see what other people have posted, and send messages to friends. The photo-oriented social network has been among the top iPhone and Android smartphone apps since soon after its launch in 2010.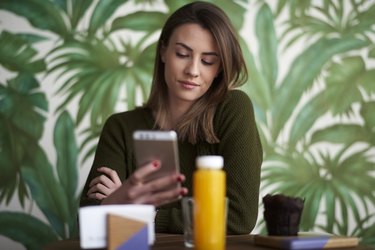 What Is Instagram?
Instagram is a social networking service geared around sharing photos and videos. It can be accessed through its website, but it's designed for use through its popular smartphone apps, where users can quickly upload and share photos and adjust them with specialized digital tools called filters.
Owned by Facebook since 2012, the service has become one of the most widely used social networks, and its camera-shaped icon has become ubiquitous on phones and in advertisements around the world.
How Does Instagram Work?
While you can look at other people's Instagram posts through Instagram's website without setting up an account, if you want to post or automatically follow other people's updates on the service, you need to set up an account of your own.
To set up an account, download and install the Instagram app from the iPhone App Store or Android's Google Play Store. Then, select whether you want to create an account with your email address or phone number or log in using an existing Facebook account. Create a username and password and fill out any profile information you want others to see.
Alternatively, you can create an account using your computer by visiting the Instagram website. You can create an account there by using either your email address or by linking an existing Facebook account.
Instagram recommends people you can follow on the service, in which case their photos are automatically highlighted in the continuous feed of photos you see when you log in on the app or website. If you choose to follow someone, they receive a notification that you have done so.
If you want to find someone in particular on Instagram, click the "Search" button and type the person's real name or Instagram username to locate them on the service.
You can only post photos to Instagram through its smartphone apps. To post a photo, open the app and select either the "Library" button to upload a photo you have saved on your phone already or the "Photo" button to take a new photo.
After your photo is chosen or taken, you have the option to adjust it using built-in filters, add the location where it was taken, or add a caption. Then, you can upload the photo to Instagram to share. If you have a Facebook account linked to your Instagram account, you also have the option to share it to your Facebook account at the same time.
When you log in to the Instagram app, you see a steady stream of photos, mostly from people that you follow. At the bottom of each one is a "Comment" button that you can tap to post a comment about the photo.
Keep in mind that comments are visible to other people who can see the photo, not just you and the person who posted it.
You can also click the "Like" button, which is shaped like a heart, to indicate that you like a particular post.
How Do I Make My Photos Private on Instagram?
By default, your Instagram profile is visible to anyone who visits it, but you can keep your photos private so that only people you approve can follow them. To do this, go to your Instagram profile in the smartphone app by tapping the profile icon, which looks like a person. Then, tap the "Settings" icon, tap "Account Privacy" and toggle "Private Account" to on.
Then, your posts are private, and if someone wants to follow you, you receive a notification and are asked whether to approve the person as a follower. Only if you do so are they able to see your posts.
If you share your photos to other social networks such as Facebook, they may still be visible to people through those networks depending on your privacy settings there.
Can Other People See What You Like on Instagram?
If you like a post on Instagram by tapping the "Like" icon, the person who created the post receives a notification that you liked it. The list of people who liked a post is also visible to people who visit the post.
Even if your account is set to private, anyone can see when you like a public post.
Can You Hide a Photo From Someone on Instagram?
If you want to block a specific user from seeing your photos or interacting with you, go to the user's profile, tap the menu icon and tap "Block" to block them from your profile. If your profile is public, that person can still see your photos by using another account or visiting the Instagram website without logging in.