From its start in a Harvard University dorm room in 2004, Facebook has grown to serve more than 2 billion users around the globe every month. The social networking service lets its users post profiles, connect with friends, share life updates and photos, and even send each other money. While it has come under fire over privacy issues at times, Facebook has adjustable privacy settings that let users specify what they want to share with whom.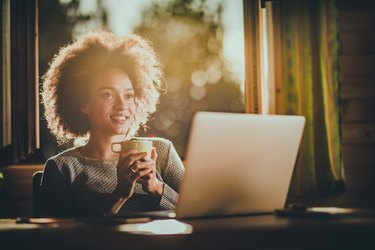 How Does Facebook Work
Over the years, Facebook has grown to include several features designed to let people share information and updates through its website and apps.
Every Facebook user has a profile page where you share basic information such as your interests and hometown, photos that you want to represent you on the site, and where you've worked and gone to school.
You can update information that changes over time, such as your current location and your relationship status, whenever you wish, and you can delete information that you no longer want to appear on your profile. From your profile page, click any of the information you've shared to edit or change who can see it. You can choose to make information public so that anyone can see it, limit it to your friends or a particular group of your friends, or set certain information so only you can see it.
You add people you know as friends on Facebook to enable them to see the information you post, communicate with you using messages, and automatically show their updates in your news feed as you use the website or mobile app. Anyone you add as a friend must confirm that they want to be your friend on the site and vice versa.
If you add people as friends and decide you no longer want to be Facebook friends with them, unfriend them by going to their profile pages and selecting "Unfriend" from the "Friends" drop-down menu. You can also choose to "Unfollow" friends, meaning their posts no longer automatically show up in your news feed as you use the site, but you remain friends. When you unfriend or unfollow friends, they do not receive a notification from Facebook, but if you are no longer friends, they may eventually notice.
You usually want to add people as friends who you know in real life, such as friends, family members and co-workers. You can also follow people on Facebook who you don't know to see their public posts. This is useful if you want to keep up with celebrities or politicians.
Facebook's news feed is a list of posts, pictures, videos and other content posted by your Facebook friends and the people you follow, as well as advertisements. It's shown to you when you use Facebook's website or app. You scroll through it to find content that interests you.
The items on the news feed are not necessarily in chronological order, and they are picked and ordered by algorithms developed by Facebook. If you see posts that you like or that make you feel a certain way in your news feed, click the "Like" button and choose an emoji that represents how you feel about the post. People are able to see your reaction.
If you don't want to see a particular post, select "Hide Post" from the drop-down menu in the top right corner of the post. From that menu, you can choose to unfollow the person or organization that created the post, hide content from that person or organization for 30 days, or report the post if it seems to violate Facebook's terms.
Use the "Settings" menu to adjust a variety of settings to make Facebook behave how you want it to behave. Access the "Settings" menu from the drop-down menu in the upper right corner of the Facebook website or from the main menu of the app.
Among things you can configure are who has access to material you post, whether people you don't know can add you as a friend, and who can tag you in posts, meaning you can be identified in a photo or be connected to a particular text post. If you're concerned about Facebook privacy, it's a good idea to review your settings and make sure that you're sharing material only with people that you intend to share it with.
Advertisements pay for Facebook. You can place ads yourself if you have a business or something else that you want to promote.
When ads appear on your Facebook news feed, they are labeled "Sponsored" near the top of the post so that you know they're ads. Ads are targeted to you based on your interactions with the site and your stated interests. If you see an ad you like, you can click on it to learn more about whatever's being advertised. If you don't like a particular ad, click on the menu in the upper right corner of the ad to hide the ad or report it to Facebook if it is offensive.
You can also adjust your ad preferences within the Facebook Settings menu to limit the information that is used to show you ads. While you can adjust the type of ads you see that way, you can't get rid of ads entirely.
If you want to place your own ads, create a Facebook page for your business and open an advertising account on the site. Then, purchase ads and choose exactly how to target them at viewers. You can also use a feature called Facebook Marketplace to sell items in your local geographic area, similar to classified ads.
How Does FB Pay Work?
If you're a Facebook user, you and your friends can use the service to send each other money.
You can do this through Facebook's Messenger app by tapping a button with a dollar sign when you are chatting with a friend. You are asked how much money you want to send and prompted to link a debit card or PayPal account to use to fund the payment if you haven't done so already. You can also set a PIN for added security.
If someone sends you money, you can have it sent to the debit card that you have on file, though it can take up to three days to receive the funds in your bank account.
Is It Safe to Be on Facebook?
Facebook has come under fire at times for privacy issues, perhaps most notably allowing the political consulting company Cambridge Analytica to access information about users in the lead-up to the 2016 U.S. election. It's also been criticized at times for having overly complex privacy settings that can make it difficult for users to ensure that their posts are only being shared with people they want to see them.
The company has vowed to make its privacy settings simpler to understand, and it's begun to prompt people to verify that their settings are, in fact, set how they wish. It is a good idea to do so if you're unsure how your settings are configured, and also periodically review your friends list to make sure you know and still want to share with the people you have listed as friends.
Ultimately, it's up to you whether you feel the benefits of Facebook outweigh any privacy concerns you may have. If you ever decide it's just not worth it, you can delete your Facebook account, and the company promises to wipe your information from its servers within 90 days. You can also deactivate your account, meaning people will be unable to see you on Facebook. Your information is not wiped though, and you can restore your account at any time.