When you need the perfect, nonverbal response to your friend's text and an emoji won't do, there's nothing more effective than a carefully chosen reaction GIF. If a picture is worth a thousand words, a GIF is worth at least 10,000. Though GIFs can simplify communication by making a bold (and hopefully funny) visual statement, figuring out how to send them isn't always easy given the multitude of available platforms. After you have the hang of it on your device, you'll be GIFing like a pro, but it's up to you to choose the best GIF for the moment. Choose wisely.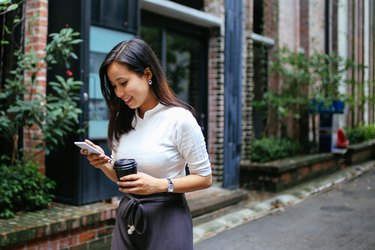 What Is a GIF?
A GIF is a digital image file, like a JPEG or PNG. Unlike a JPEG or PNG, however, GIFs are usually animated; they depict a short animation that usually runs for a few seconds on a loop. The animation can be about anything, but it is often a small snippet taken from a longer video, such as a movie or TV show. Typically, GIFs are used to express an emotional reaction to something, similar to the way emoji are used. For example, if you think something's funny, you might text your friend a GIF of someone laughing in response; if you're befuddled, text a GIF of someone looking around the room in confusion.
How to Text a GIF on iPhone
Using your iPhone's native messaging app Messages, tap the camera icon, then tap your Photos folder and the "Animated" folder. From here, you can tap any GIF you have saved on your phone and select "Choose" to drop it into your message.
Alternatively, you can browse and send hundreds of the latest trendy GIFs via Apple's #images feature. To use #images, select a message recipient, tap the drawing icon next to the message field (the icon looks like a tiny easel), then tap the magnifying glass icon next to "Find images." Type in a keyword for the type of GIF you're looking for – like "clapping" or "thumbs-up" – and tap the GIF of your choice to use it in your message.
This GIF usage process is standard on iOS 10 devices and above, but it works basically the same – barring a few different folder or button names – on older devices. Apple's #images feature is only available on iOS 10 and above. Apple's iOS 11-compatible devices include the iPhone 5S through the iPhone X.
How to Text a GIF on Android
On Android Messages, texting a GIF is similar to the iOS process. From your message, tap the "+" symbol to attach media, and then tap the photo symbol to access your gallery and choose a saved GIF.
You can also use Android's own "GIF Search" option after tapping "+" to find a GIF by keyword; just tap the GIF to include it in your message.
Using GIFs on Android 7.1 Nougat and above is fairly consistent across devices, including phones like the Google Pixel, Nexus, Huawei Mate, LG V, HTC U series and others.
How to Text a GIF on Samsung Galaxy
Texting a GIF on Samsung smartphones, including the company's flagship Galaxy series, works just the same way as it does on Android phones – and that's because Galaxy phones all run the Android operating system.
Ever since the debut of the Samsung Galaxy S in 2010, Android has powered Samsung's smartphone lineup. Some Android 8.0 Oreo-equipped Galaxy phones include the Galaxy Note 8, Galaxy S8, Galaxy S8 Plus and the Galaxy S7, among others.
How Do You Save a GIF?
Fortunately for your comedic timing, saving GIFs is a painless process on both iOS and Android platforms. When you come across a GIF that you want to add to your library, hold down on the image. On Apple devices, save a GIF you receive in a message by tapping "Save"; on your Android device, tap "Download." Now you're ready to insert the saved image into your next text.
How to Text a GIF From Twitter?
To share a GIF from Twitter, the easiest route is to save the GIF by holding down on it and attaching it to your Android or iOS message.
If you want to share the whole tweet – GIF, text and all – click on the tweet's downward-facing arrow icon and pick "Copy link to Tweet" from the pop-up menu. This copies the link to your clipboard. From there, you can paste it into your outgoing text message.
How Do You Share a GIF on Facebook?
When your GIF is too good to be contained in a text message, take it to your socials. On Facebook, open up that trusty "What's on your mind?" box and choose "Photo/Video" from the available options to attach a GIF that's saved to your device.
To browse Facebook's GIF library – a la Apple's #images or Google's GIF Search – choose the "GIF" option and type in a keyword or click on one of the trending GIFs that appears instantly.
How Do You Put a GIF on Instagram?
As of 2018, Instagram does not support images in the GIF format. It does support videos, though, so app makers have come up with solutions to quickly convert your GIFs to short videos so you can GIF away on the 'gram.
In iOS, GifLab does the trick, while Giphy Cam works for Android. In either case, you open the GIF in the app, convert the GIF, and then choose the option to share on Instagram. You'll be prompted to link to your Instagram account.